The Gauntlet (Hardcover)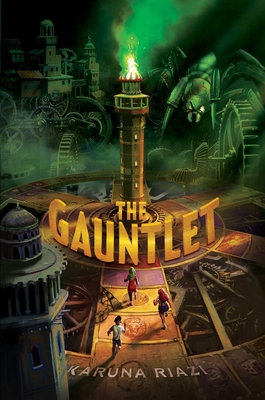 Staff Reviews
---
When Farah's brother is yanked into a magical board game, she and her two best friends dive in to save him - but if they don't beat the challenges the game lays out for them, they may be trapped inside forever. THE GAUNTLET is a fast-paced fantasy rich with worldbuilding and cultural detail that will please any fantasy fan.
— Nicole
Description
---
A trio of friends from New York City find themselves trapped inside a mechanical board game that they must dismantle in order to save themselves and generations of other children in this action-packed debut that's a steampunk Jumanji with a Middle Eastern flair.
When twelve-year-old Farah and her two best friends get sucked into a mechanical board game called The Gauntlet of Blood and Sand--a puzzle game akin to a large Rubik's cube--they know it's up to them to defeat the game's diabolical architect in order to save themselves and those who are trapped inside, including her baby brother Ahmed. But first they have to figure out how.
Under the tutelage of a lizard guide named Henrietta Peel and an aeronaut Vijay, the Farah and her friends battle camel spiders, red scorpions, grease monkeys, and sand cats as they prepare to face off with the maniacal Lord Amari, the man behind the machine. Can they defeat Amari at his own game...or will they, like the children who came before them, become cogs in the machine?