You are here
HUDSON VALLEY YA SOCIETY: Joanna Philbin, Cammie McGovern, Nora Raleigh Baskin & Jennifer Lyne
Event date:
Sunday, June 15, 2014 - 4:00pm
Event address:
6422 Montgomery St., Suite 6
us
This event will be held at Oblong Books & Music, 6422 Montgomery St., Rhinebeck, NY.
RSVP Requested: RSVP via email or Facebook and share this event with your friends!
The Hudson Valley YA Society is a monthly author event series at Oblong Books & Music in Rhinebeck, NY.  The HVYAS brings the best and brightest YA authors to the Hudson Valley in a memorable and fun party-like "literary salon" atmosphere, with refreshments, conversation, and giveaways for attendees.
Set in the Hamptons against a backdrop buzzing with the rich, the famous, and the wannabe rich and famous, Since Last Summer, a companion novel to Rules of Summer, is the perfect beach read. Rory McShane should be excited to spend the summer in East Hampton with Connor Rule, her generous, smart, cute boyfriend. After all, Rory's no longer the hired help at the Rule family mansion on the beach, and she and Connor have made it through a year of long-distance dating. But now, in the months leading up to college, Rory can't help but wonder if she really belongs in Connor's world. Joanna Philbin was born in Los Angeles and raised in New York City. She holds a BA from Brown University and a JD and an MFA from the University of Notre Dame. She is the daughter of TV personailty Regis Philbin. She is the author of Rules of Summer and the Daughters series, and lives and writes in Los Angeles.
John Green's The Fault in Our Stars meets Rainbow Rowell's Eleanor & Park in Cammie McGovern's beautifully written, incredibly honest, and emotionally poignant debut YA novel Say What You Will. Born with cerebral palsy, Amy can't walk without a walker, talk without a voice box, or even fully control her facial expressions. Plagued by obsessive-compulsive disorder, Matthew is consumed with repeated thoughts, neurotic rituals, and crippling fear. Both in desperate need of someone to help them reach out to the world, Amy and Matthew are more alike than either ever realized. Cammie McGovern is the author of three adult novels, The Art of Seeing, Eye Contact, and Neighborhood Watch.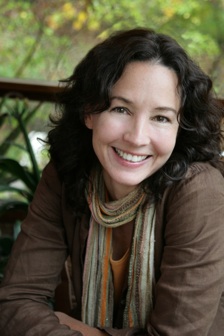 When Laura spots a boy on a facing platform, lifting a camera to his face, looking right at her, Laura feels anything but afraid, and she can't forget him. Jonas, meanwhile, thinks nonstop about the pretty hippie girl he glimpsed on the platform — trying to comprehend how she vanished, but mostly wondering whether he will see her again in a city of millions — and whether if he searches, he would have any chance of finding her. Subway Love is a lyrical meditation on love, in which Nora Raleigh Baskin explores the soul's ability to connect, and heal, outside the bounds of time and reason. Baskin was chosen as a Publishers Weekly Flying Start for her novel What Every Girl (Except Me) Knows. She is the author of novels for middle-graders and teens, including The Truth About My Bat Mitzvah and Anything But Typical, which won the ALA Schneider Family Award. Nora lives with her family in Golden's Bridge, New York. 
In Jennifer Lyne's novel Catch Rider, tough-as-nails fourteen-year-old Sid may not have expensive boots like the privileged teen riders in Virginia, but she knows her way around horses. Working with her uncle since childhood, she's learned to evaluate horses, break and train them, care for them . . . and ride like a professional. Amid turmoil at home, she dreams of becoming a catch rider--a show rider who can ride anything with hooves. Jennifer is co-founder of Sharpshooter Pictures, a film production company, and has written and produced two feature films. She lives in New York City with her husband and their two sons. Catch Rider is her first novel.
---