The Hudson Valley YA Society
Founded in 2010 by Jennifer Laughran & Suzanna Hermans, The Hudson Valley YA Society is a monthly author event series at Oblong Books & Music in Rhinebeck, NY. The HVYAS brings the best and brightest YA authors to the Hudson Valley in a memorable and fun, party-like, "literary salon" atmosphere, with refreshments, conversation, and giveaways for attendees.
Upcoming Events
Celebrating Women's History Month
Kelly Jensen - "Here We Are: Feminism for the Real World"
Sunday, March 26 - 4:00pm
LET'S GET THE FEMINIST PARTY STARTED!
Have you ever wanted to be a superheroine? Join a fandom? Create the perfect empowering playlist? Understand exactly what it means to be a feminist in the twenty-first century? You've come to the right place.
Forty-four writers, dancers, actors, and artists contribute essays, lists, poems, comics, and illustrations about everything from body positivity to romance to gender identity to intersectionality to the greatest girl friendships in fiction. Together, they share diverse perspectives on and insights into what feminism means and what it looks like. Come on in, turn the pages, and be inspired to find your own path to feminism by the awesome individuals in Here We Are.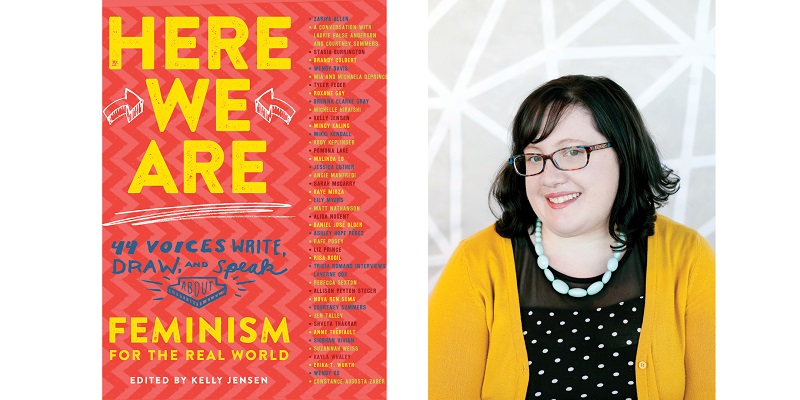 Kelly Jensen is a former librarian-turned-editor for Book Riot and Stacked. She's the author of It Happens: A Guide to Contemporary Realistic Fiction for the YA Reader. She loves black licorice and debating genre. Follow her on Twitter: @veronikellymars.
---
Barry Lyga, Amanda Maciel, Cristina Moracho & Ibi Zoboi
Sunday, April 30 - 4:00pm
Barry Lyga
is the
New York Times
bestselling author of
After the Red Rain
, the I Hunt Killers trilogy, and his debut,
The Astonishing Adventures of Fanboy and Goth Girl
. In
BANG
Sebastian Cody did something horrible, something no one--not even Sebastian himself--can forgive.
Amanda Maciel's LUCKY GIRL is an unflinching exploration of beauty, self-worth, and sexual assault.
Cristina Moracho
's
A GOOD IDEA
has been described as "Sharp as a fistful of broken glass, dark and twisted as the woods at night...rural noir at its creepy, literary best." —Laura Ruby, National Book Award Finalist and Printz-winning author of
Bone Gap.
Ibi Zoboi's AMERICAN STREET
is an evocative and powerful coming-of-age story perfect for fans of
Everything, Everything
;
Bone Gap
; and
All American Boys
.
---
SAVE THE DATE!
HVYAS Book of the Month
By Stephanie Garber
Scarlett dreamed of attending Caraval since she was a little girl, to see the the theatrics, the beauty, the magic. But when her sister is kidnapped and becomes the prize of the Caraval weekend, Scarlett must risk everything to save her. CARAVAL enchants and terrifies in equal turns, dropping readers into a lush world where nothing is real but the rules of the game. Stephanie Garber's mesmerizing debut captures the power of stories and the magic of a sister's love.
Previous Guests
Dahlia Adler
●
Becky Albertalli
● Tara Altebrando ● Laurie Halse Anderson ● Jesse Andrews ● E. Archer ● Marianna Baer ● Anna Banks ● Leigh Bardugo ● Nora Raleigh Baskin ● Holly Black ● Yelena Black ● Robin Benway ● Judy Blundell ● Gwenda Bond ● Jennifer Bosworth ● Ann Brashares ● Libba Bray ● Meagan Brothers ● Michael Buckley ● Sarah Rees Brennan ● Jen Calonita ● Kristin Cashore ● Cecil Castellucci ● Jennifer Castle ● Sheela Chari ● Lucy Christopher ● Cassandra Clare ● Laurie Boyle Crompton

●

Rachel Cohn ● Susane Colasanti ● Andrea Cremer ● Katie Cotugno ● Maria Dahvana Headley ● Gina Damico ● James Dashner ● Heather Demetrios ● Sarah Dessen ● Jaclyn Dolamore ● Jennifer Donnelly ● Sara Beth Durst ● Kate Ellison ● Sara Farizan ● Jean Feiwel ● Carrie Firestone ● Gayle Forman ● Mariah Fredericks ● Aimee Friedman ● Margaux Froley ● Kami Garcia ● Isabelle Gillies

●

Anna Godbersen ● Maya Gold ● Carol Goodman ● Shawn Goodman ● Adele Griffin ● Heidi Heilig ● Deborah Heiligman ● Anne Heltzel ● Christine Heppermann

●

Jeff Hirsch ● Ellen Hopkins ● Katherine Howe ● Anna Jarzab ● Maureen Johnson ● Melissa Kantor ● Stasia Ward Kehoe ● Kody Keplinger ● Kate Klimo ● Dan Krokos ● Steohanie Kuehn ● Elizabeth LaBan ● Una LaMarche ● Justine Larbalestier ● Jillian Larkin ● Theo Lawrence ● Emmy Laybourne ● David Levithan ● Kelly Link ● Kim Liggett ● Sarah Darer Littman ● E. Lockhart ● Jannifer Lynne ● Bennett Madison ● Jessica Martinez ● Meghan McCafferty ● Lurlene McDaniel ● Cammie McGovern ● Goldy Moldavsky ● Amy McNamara ● Marissa Meyer ● Gretchen McNeil ● Megan Miranda ● Sarah Mlynowski ● Carley Moore ● Lauren Morrill ● Elizabeth Norris ● Phoebe North ● Michael Northrop ● Caragh O'Brien ● Lauren Oliver ● Micol Ostow ● Danielle Paige ● Robin Palmer ● Rosanne Parry ● Joanna Philbin ● Rebecca Podos ● Sarah Porter ● Kim Purcell ●
Lindsay Ribar
●
Peter Richmond

●

Kat Rosenfield ● Jess Rothenberg ● Rainbow Rowell ● Marie Rutkoski
●
Kimberly Sabatini ● Gavriel Savit ● Kate Scelsa ● Robyn Schneider ● Eliot Schrefer ● Gary D. Schmidt ● Tiffany Schmidt ● Hollis Seamon ● Ilyasah Shabazz ● Alyssa Sheinmel ● Sara Shepard ●
Adam Silvera
● Alexandra Sirowy ● Andrew Smith ● Jennifer E. Smith ● Laura Stampler ● Natalie Standiford ● Maggie Stiefvater ● R.L. Stine

●

Nova Ren Suma ● Lance Rubin ● Liz Szabla ●
Robin Talley
● Sarvenaz Tash ● Siobhan Vivian ● Len Vlahos ● Tommy Wallach ● Robin Wasserman ● Scott Westerfeld ● Alecia Whittaker ● Meg Wolitzer ● Michelle Zink