Alisa Kwitney - Signed Books
Order *Signed* Copies of G.I.L.T. by Alisa Kwitney!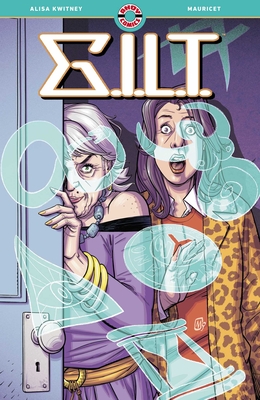 Eisner-nominated comics writer and novelist Alisa Kwitney (Rogue: Untouched) and artist Mauricet (Star Wars Adventures) are sending the most unlikely pair of time travellers back to the 70s on the day they first met in G.I.L.T.
"Doing over the 1970s when you're in your 70s is the irresistible premise of Alisa Kwitney's G.I.L.T.--the Guild of Independent Lady Temporalists. This is a comic book for women who don't read comic books, a hilarious, insightful, sophisticated look at age, magic, and the wish to finally, blissfully get it all right."
-- Pamela Redmond, author of Younger

Meet Hildy Winters, a tough, outspoken survivor of New York City's Upper West Side-with her very own time-travel portal. For Hildy belongs to G.I.L.T., the Guild of Independent Lady Temporalists. Their prime directive: Do not alter the past without co-op board approval!

G.I.L.T. follows two very different women whose lives become entangled when they both slip through a portal in time to the day they first met in 1973. Trista is the Bill Murray of home health care aides, a cynical screw-up who doesn't care for anything but her Fleuvog shoes and her paycheck. She meets her match in Hildy, a sarcastic second-wave feminist living on a steady diet of cigarettes and regret. When Hildy seizes her last chance to return to a fateful day in 1973, she accidentally takes Trista along for the ride. But as the old saying goes, there are no accidents in time travel. And Hildy and Trista don't remember each other, but they met each other forty years earlier—on Hildy's wedding day. Now they've got to come to terms with the past before they accidentally dismantle the future.