Duty: A Father, His Son, And the Man Who Won the War (Paperback)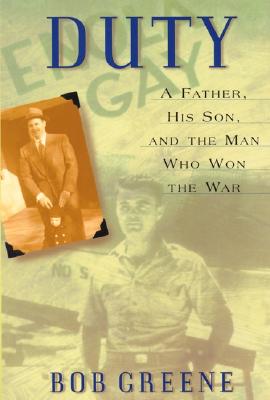 $25.00
This item is not currently available to order.
Description
---
When Bob Greene went home to central Ohio to be with his dying father, it set off a chain of events that led him to knowing his dad in a way he never had before--thanks to a quiet man who lived just a few miles away, a man who had changed the history of the world.
Greene's father -- a soldier with an infantry division in World War II--often spoke of seeing the man around town. All but anonymous even in his own city, carefully maintaining his privacy, this man, Greene's father would point out to him, had "won the war." He was Paul Tibbets. At the age of twenty-nine, at the request of his country, Tibbets assembled a secret team of 1,800 American soldiers to carry out the single most violent act in the history of mankind. In 1945 Tibbets piloted a plane--which he called Enola Gay, after his mother -- to the Japanese city of Hiroshima, where he dropped the atomic bomb.
On the morning after the last meal he ever ate with his father, Greene went to meet Tibbets. What developed was an unlikely friendship that allowed Greene to discover things about his father, and his father's generation of soldiers, that he never fully understood before.
DUTY
is the story of three lives connected by history, proximity, and blood; indeed, it is many stories, intimate and achingly personal as well as deeply historic. In one soldier's memory of a mission that transformed the world -- and in a son's last attempt to grasp his father's ingrained sense of honor and duty -- lies a powerful tribute to the ordinary heroes of an extraordinary time in American life.
What Greene came away with is found history and found poetry -- a profoundly moving work that offers a vividly new perspective on responsibility, empathy, and love. It is an exploration of and response to the concept of duty as it once was and always should be: quiet and from the heart. On every page you can hear the whisper of a generation and its children bidding each other farewell.
About the Author
---
Award-winning journalist Bob Greene is the author of six New York Times bestsellers and a frequent contributor to the New York Times Op-Ed page.