Mr. S: My Life with Frank Sinatra (Hardcover)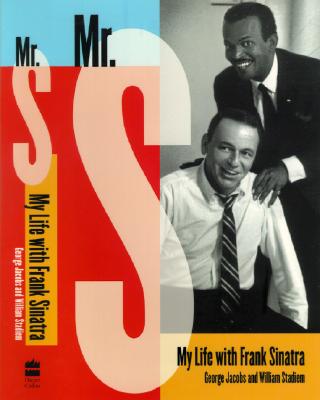 $24.95
This item is not currently available to order.
Description
---
An odyssey of celebrity, extravagance, and genius, Mr. S provides the deepest understanding yet of one of our greatest entertainers
As the right hand of Frank Sinatra from 1953 to 1968, George Jacobs arguably had one of the coolest jobs in the world at the time when Sinatra was the undisputed master of the entertainment universe. Jacobs rose from his humble beginnings in New Orleans to join Sinatra in the mansions of Beverly Hills, the penthouses of Manhattan, the palaces of Europe, the pinnacles of world power. George Jacobs saw it all, did it all.
Sinatra took Jacobs with him on the ride of the century, from blacklist Hollywood to gangland Chicago to an emerging Vegas to Camelot, not to mention dolce vita Rome and swinging London. As a member of Sinatra's inner circle, Jacobs drank with Ava Gardner, danced with Marilyn Monroe, massaged John F. Kennedy, golfed with Sam Giancana, and played jazz with the Prince of Monaco while his boss secretly pursued Princess Grace. He also partied with Mia Farrow, but that one cost him his job of a lifetime.
Through the ring-a-ding-ding and the stars, royals, politicians, moguls, and mobsters emerged a warm and intimate relationship that reveals a complex Sinatra: vulnerable and arrogant, charismatic and violent, loving and disdainful, confident and painfully self-conscious. Jacobs is no sycophant, but rather a sharp-eyed observer of the highs and lows of his boss's turbulent life. And Mr. S is perhaps the most complete, honest, and intimate portrait of Sinatra ever written.
It is an unforgettable trip, and George Jacobs provides a front-and-center seat at the life of an American icon.
About the Author
---
George Jacobs has refused countless offers to tell his story. Until now. A master chef and carpenter, he lives not far from the old Sinatra compound in Palm Springs, Florida, where he continues to be one of the toasts of that star-filled town.

William Stadiem was a Harvard JD-MBA and Wall Street lawyer before embarking for Hollywood, where he has written the screenplays for such films as Franco Zeffirelli's Young Toscanini, starring Elizabeth Taylor. He wrote the bestselling Marilyn Monroe Confidential, and Lullaby and Good Night with Vincent Bugliosi. Formerly the Hollywood columnist for Andy Warhol's Interview as well as food critic for Los Angeles magazine, Stadiem lives in a home overlooking the ocean in Santa Monica, California.