Reading Like a Writer: A Guide for People Who Love Books and for Those Who Want to Write Them (Hardcover)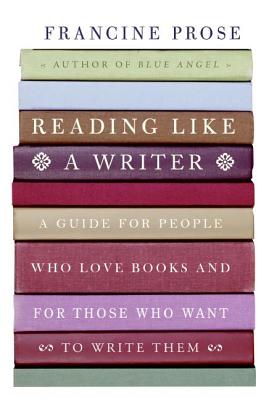 Description
---
Long before there were creative-writing workshops and degrees, how did aspiring writers learn to write? By reading the work of their predecessors and contemporaries, says Francine Prose.
In Reading Like a Writer, Prose invites you to sit by her side and take a guided tour of the tools and the tricks of the masters. She reads the work of the very best writers—Dostoyevsky, Flaubert, Kafka, Austen, Dickens, Woolf, Chekhov—and discovers why their work has endured. She takes pleasure in the long and magnificent sentences of Philip Roth and the breathtaking paragraphs of Isaac Babel; she is deeply moved by the brilliant characterization in George Eliot's Middlemarch. She looks to John Le Carré for a lesson in how to advance plot through dialogue, to Flannery O'Connor for the cunning use of the telling detail, and to James Joyce and Katherine Mansfield for clever examples of how to employ gesture to create character. She cautions readers to slow down and pay attention to words, the raw material out of which literature is crafted.
Written with passion, humor, and wisdom, Reading Like a Writer will inspire readers to return to literature with a fresh eye and an eager heart.
About the Author
---
Francine Prose is the author of twenty-one works of fiction, including Mister Monkey; the New York Times bestseller Lovers at the Chameleon Club, Paris 1932; A Changed Man, which won the Dayton Literary Peace Prize; and Blue Angel, a finalist for the National Book Award. Her works of nonfiction include Anne Frank: The Book, The Life, The Afterlife, and the New York Times bestseller Reading Like a Writer. The recipient of numerous grants and honors, including a Guggenheim, a Fulbright, and a Director's Fellow at the Center for Scholars and Writers at the New York Public Library, she is a former president of PEN American Center and a member of the American Academy of Arts and Letters and the American Academy of Arts and Sciences. She lives in New York City.
Praise For…
---
"Prose's little guide will motivate 'people who love books'…Like the great works of fiction, it's a wise and voluble companion."
— New York Times Book Review

"Witty...Insightful."
— Washington Post Book World

"a jewel of a companion…engrossing...and...daringly insightful."
— Los Angeles Times

"The passages are…subtle and brilliant in their capture of human complexity…Prose is…a skilled…analyst of what makes them so."
— San Francisco Chronicle

"Reading Like A Writer is different from the rest of the pack…[Prose's] wise book serves as an ispirational reminder."
— Washington Times

"Sensible, valuable and highly readable, Reading Like a Writer deserves perusal — both in and out of the classroom."
— Kansas City Star

"Celebrates the pleasures of close reading and explores the power of well-wrought language…refreshing"
— Time Out New York

"An absolutely necessary addition to the personal library of anyone who is a writer or dreams of writing."
— National Public Radio

"Makes a case for the rewards of reading."
— Fort Lauderdale Sun Sentinel

"Prose knows when to be funny, how to wield examples, and when to stop."
— More magazine

"Readable and illuminating…few…advice volumes offer as much insight into writing as you will find in Francine Prose's latest book"
— Capital Times

"Prose's guide to reading and writing belongs on every writer's bookshelf alongside E.M. Forster's Aspects of the Novel."
— Publishers Weekly (starred review)
We appreciate your continued support!
If you would like to make a donation to help us through CLICK HERE.