The Professor and the Madman: A Tale of Murder, Insanity, and the Making of the Oxford English Dictionary (Paperback)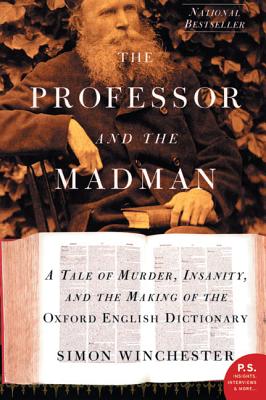 $16.99
Available in our Warehouse: Usually Ships in 3-8 Days
Description
---
A New York Times Notable Book  
The Professor and the Madman is an extraordinary tale of madness, genius, and the incredible obsessions of two remarkable men that led to the making of the Oxford English Dictionary—and literary history.
The making of the OED was one of the most ambitious projects ever undertaken. As definitions were collected, the overseeing committee, led by Professor James Murray, was stunned to discover that one man, Dr. W. C. Minor, had submitted more than ten thousand. But their surprise would pale in comparison to what they were about to discover when the committee insisted on honoring him. For Dr. Minor, an American Civil War veteran, was also an inmate at an asylum for the criminally insane.
Masterfully researched and eloquently written, The Professor and the Madman "is the linguistic detective story of the decade." (William Safire, New York Times Magazine)
This P.S. edition features an extra 16 pages of insights into the book, including author interviews, recommended reading, and more.
About the Author
---
Simon Winchester is the acclaimed author of many books, including The Professor and the Madman, The Men Who United the States, The Map That Changed the World, The Man Who Loved China, A Crack in the Edge of the World, and Krakatoa, all of which were New York Times bestsellers and appeared on numerous best and notable lists. In 2006, Winchester was made an officer of the Order of the British Empire (OBE) by Her Majesty the Queen. He resides in western Massachusetts.
Praise For…
---
"A brisk, gracefully executed work of popular intellectual history, a model of its kind."
— Washington Post

"An extraordinary tale, and Simon Winchester could not have told it better. . . . [He] has written a splendid book."
— The Economist

"Elegant and scrupulous."
— David Walton, New York Times Book Review

"There is much truth to be drawn [from The Professor and the Madman] about Victorian pride, the relation between language and the world, and the fine line between sanity and madness."
— Wall Street Journal

"Winchester combines a reporter's eye for detail with a historian's sense of scale. His writing is droll and eloquent."
— USA Today

"One of the great strengths of this book is historical mise-en-scene, particularly for nineteenth-century America and England...[a] marvelous work of historical and philogical imagination."
— Linda Bridges, National Review

"Remarkably readable, this chronicle of lexicography roams from the great dictionary itself to hidden nooks in the human psyche that sometimes house the motives for murder, the sources for sanity, and the blueprint for creativity."
— Kirkus Reviews (starred)

"The Professor and the Madman...is the linguistic detective story of the decade.... Winchester does a superb job of historical research that should entice readers even more interested in deeds than words."
— William Safire, New York Times Magazine

"Winchester's history of the OED is brisk and entertaining"
— Mark Rozzo, Washington Post Book World
We appreciate your continued support!
If you would like to make a donation to help us through CLICK HERE.