Football Genius (Paperback)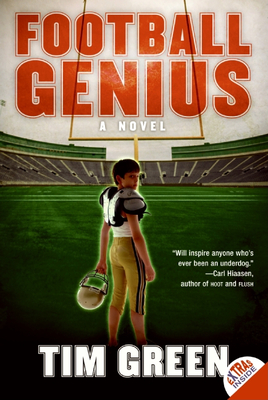 Other Books in Series
This is book number 1 in the Football Genius series.
Description
---
New York Times bestselling author and former NFL player Tim Green scores a touchdown with this exhilarating and action-packed story about an ordinary boy who becomes a hero you can really root for. Perfect for fans of Mike Lupica.
Twelve-year-old Troy White has a phenomenal gift: He can predict football plays before they even happen. Any position. Any player. Any team.
When Troy's single mom gets a job working for the Atlanta Falcons, Troy sees this as an opportunity to show what he can do. But first he has to get to the Falcons—and with tight security and a notoriously mean coach, even his mom's field passes aren't much help.
Then Troy and his best friends devise a plan to get the attention of star linebacker Seth Halloway. With Seth's playing and Troy's genius, the Falcons could be unstoppable if they'll only listen. But if he can't convince Seth he's telling the truth, the Falcons' championship and his mom's job are at risk.
About the Author
---
Tim Green, for many years a star defensive end with the Atlanta Falcons, is a man of many talents. He's the author of such gripping books for adults as the New York Times bestselling The Dark Side of the Game and American Outrage. Tim graduated covaledictorian from Syracuse University and was a first-round draft pick. He later earned his law degree with honors, and he has also worked as an NFL commentator for FOX Sports and NPR.
His first book for young readers, Football Genius, inspired in part by his players and his own kids, became a New York Times bestseller and was followed by Football Hero, Football Champ, The Big Time, and Deep Zone. He drew on his experiences playing and coaching Little League for Rivals and Pinch Hit and two more New York Times bestsellers: Baseball Great and Best of the Best.
Bestselling author Jon Scieszka called Tim Green's Unstoppable, a book about a boy's struggle with cancer that debuted at #2 on the New York Times bestseller list, "Absolutely heroic. And something every guy should read."
Tim Green lives with his wife, Illyssa, and their five children in upstate New York.
Praise For…
---
"As close as you can come to NFL action without putting on the pads. Filled with excitement, suspense—and great football!" — Bill Parcells, NFL championship coach
"Non-sports fans will root for underdog Troy ('I want to do something. I want to be something. I thought this was my chance') and enthusiasts will thrill to the first-hand knowledge Green brings to the novel." — Publishers Weekly
"Green makes Troy a winning hero, and he ties everything together with a fast-moving plot." — ALA Booklist
"A first purchase for libraries looking to bolster their sports fiction." — School Library Journal
"Will appeal to all young football fans with its authentic football action and determined young hero." — KLIATT
"Non-sports fans will root for underdog Troy...and enthusiasts will thrill to the first-hand knowledge Green brings" — Publishers Weekly
"Appealing...the effortless commingling of real players with fictional characters should keep middle-graders engrossed." — Bulletin of the Center for Children's Books