40 Days and 40 Nights: Darwin, Intelligent Design, God, Oxycontin®, and Other Oddities on Trial in Pennsylvania (Paperback)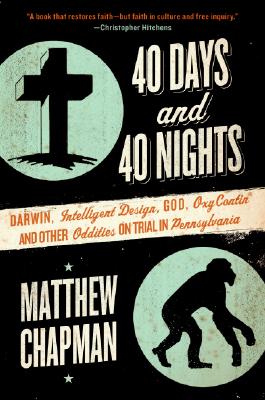 $19.79

Available in our Warehouse: Usually Ships in 3-8 Days
Description
---
In this fascinating story of evolution, religion, politics, and personalities, Matthew Chapman captures the story behind the headlines in the debate over God and science in America.
Kitzmiller v. Dover Board of Education, decided in late 2005, pitted the teaching of intelligent design (sometimes known as "creationism in a lab coat") against the teaching of evolution. Matthew Chapman, the great-great-grandson of Charles Darwin, spent several months covering the trial from beginning to end. Through his in-depth encounters with the participants—creationists, preachers, teachers, scientists on both sides of the issue, lawyers, theologians, the judge, and the eleven parents who resisted the fundamentalist proponents of intelligent design—Chapman tells a sometimes terrifying, often hilarious, and above all moving story of ordinary people doing battle in America over the place of religion and science in modern life.
About the Author
---
Matthew Chapman is the author of Trials of the Monkey: An Accidental Memoir. He is also a film director and screenwriter whose writing credits include Consenting Adults and Runaway Jury. He lives in New York with his wife and daughter.