Lost and Found New York: Oddballs, Heroes, Heartbreakers, Scoundrels, Thugs, Mayors, and Mysteries (Hardcover)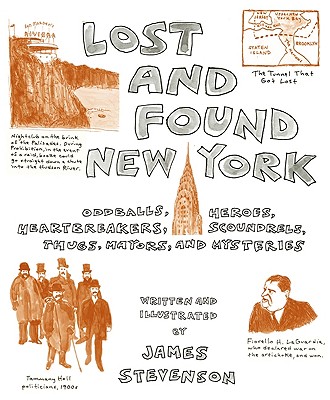 $32.95
This item is not currently available to order.
Description
---
Celebrate the lost histories, unusual people and places, and hidden treasures of New York City's glorious past with this delightful and engaging collection of original illustrations and stories by artist/writer James Stevenson.
Featuring the series of Stevenson's "Lost and Found New York" pieces, originally published in the New York Times, along with never-before-published original artwork by the artist, this handsome volume represents the unique vision of an artist and raconteur of extraordinary talent.
"Until you draw a picture of something," says Stevenson, "You are apt to be dead wrong about what it looks like."
Stevenson's charming illustrations and stories will transport you to Brooklyn's Floyd Bennett Field, New York City's first municipal airport, where Howard Hughes took off on July 10, 1938. You will meet Sadie the Goat—a member of the ladies' auxiliary of the 1870s Hell's Kitchen gang the Gophers—known for butting her victims in the stomach with her head and extracting their valuables. You will discover a popular 1920s Prohibition nightclub equipped with a secret chute that sent bottles of alcohol into the Hudson River (and was later destroyed to build a highway). You will learn about the architect who built the famous Chrysler Building in 1928, then the world's tallest building.
Lost and Found New York will introduce you to hundreds of colorful, intriguing, and wonderful characters, places, and events from New York City's rich and varied past.
Enjoy your trip!
About the Author
---
James Stevenson is an op-ed contributor to the New York Times. His popular column, "Lost and Found New York," has appeared regularly in the newspaper since 2003. He was on the staff of The New Yorker for more than three decades; his work includes 2,000 cartoons and 80 covers, as well as reporting and fiction. He is also the author and illustrator of over 100 children's books. He lives in Connecticut.