The Torn Skirt: A Novel (Paperback)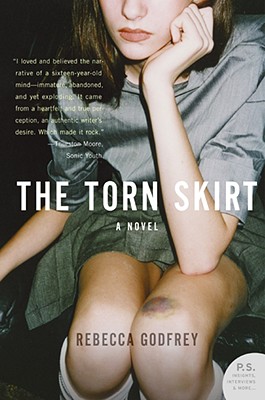 $14.29
Available in our Warehouse: Usually Ships in 3-8 Days
Description
---
"The Torn Skirt is a hot book, a thrilling romance of teen rage and longing -- like S.E. Hinton's The Outsiders, except about girls."  — Mary Gaitskill, author of Two Girls, Fat and Thin
At Mt. Douglas (a.k.a. Mt. Drug) High, all the girls have feathered hair, and the sweet scent of Love's Baby Soft can't hide the musk of raw teenage anger, apathy, and desire. Sara Shaw is a girl full of fever and longing, a girl looking for something risky, something real. Her only possible salvation comes in the willowy form of the mysterious Justine, the outlaw girl in the torn skirt. The search for Justine will lead Sara on a daring odyssey into an underworld of hookers and johns, junkies and thieves, runaway girls and skater boys, and, ultimately, into a violent tragedy.
About the Author
---
Rebecca Godfrey is an award-winning novelist and journalist. Her first novel, The Torn Skirt, was a national bestseller and a finalist for the Ethel Wilson Fiction Prize. Her second book, Under The Bridge, an investigation into the Reena Virk case, was a Globe and MailBook of the Year, and received the B.C. Award for Canadian Nonfictionand The Arthur Ellis Award for Nonfiction. Born in Toronto, and raisedin Victoria, she currently lives in Brooklyn, New York.
Praise For…
---
"I loved and believed that narrative of a 16 year old mind—immature, abandoned and yet exploding. It came from a heartfelt and true perception, an authentic writers' desire. Which made it rock."
— Thurston Moore, Sonic Youth

"The Torn Skirt is a hot book, a thrilling romance of teen rage and longing -- like S.E. Hinton's The Outsiders, except about girls."
— Mary Gaitskill, author of Two Girls, Fat and Thin

"The Torn Skirt inspired a range of rabid fans, from literary hipsters to renegade kids."
— Rolling Stone

"A serious bullet of a book....Godfrey constantly impresses with her precise eye and impassioned tone. A bright new voice."
— Kirkus Reviews, Starred Review

"No one understands the teenage mind like Rebecca Godfrey. An no one can penetrate its darkest recesses with such insight and compassion."
— Gary Shteyngart, author of The Russian Debutante's Handbook

"Captivating . . . Stark and bewitching . . . A voice that is fresh, disaffected and angst-ridden . . . Sara is afflicted with an overwhelming sense of compassion . . . Her world is a persuasive one, as malignant and addictive as a cigarette."
— New York Times Book Review

"A dizzying mix of hope and despair."
— Oregonian

"A wild, edgy ride...The Torn Skirt has enough drugs, parties, punks and criminal behavior to convince most mothers that locking their little darling in the upstairs bedroom is the safest way to go."
— Victoria Times-Colonist (Canada)

"[The] voice of the bad girls...[a] literary rebellion."
— Maclean's

"Unexpected, sharp as broken glass. She nails the dichotomy of teen fury and shoulder-shrugging apathy. A daunting debut that deserves notice...damn near pitch -perfect."
— Calgary Sun (Canada)
We appreciate your continued support!
If you would like to make a donation to help us through CLICK HERE.