The Sum of Our Days CD: A Memoir (CD-Audio)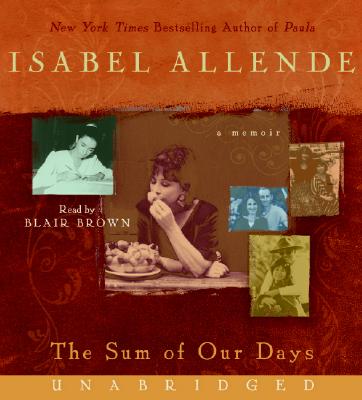 $43.95
This item is not currently available to order.
Description
---
In this heartfelt memoir, Isabel Allende reconstructs the painful reality of her own life in the wake of tragic loss—the death of her daughter, Paula. Recalling the past thirteen years from the daily letters the author and her mother, who lives in Chile, wrote to each other, Allende bares her soul in a book that is as exuberant and full of life as its creator. She recounts the stories of the wildly eccentric, strong-minded, and eclectic tribe she gathers around her that becomes a new kind of family.
Throughout, Allende shares her thoughts on love, marriage, motherhood, spirituality and religion, infidelity, addiction, and memory. Here, too, are the amazing stories behind Allende's books, the superstitions that guide her writing process, and her adventurous travels. Ultimately, The Sum of Our Days offers a unique tour of this gifted writer's inner world and of the relationships that have become essential to her life and her work.
Narrated with warmth, humor, exceptional candor, and wisdom, The Sum of Our Days is a portrait of a contemporary family, bound together by the love, fierce loyalty, and stubborn determination of a beloved, indomitable matriarch.
About the Author
---
Isabel Allende is the author of twelve works of fiction, including the New York Times bestsellers Maya's Notebook, Island Beneath the Sea, Inés of My Soul, Daughter of Fortune, and a novel that has become a world-renowned classic, The House of the Spirits. Born in Peru and raised in Chile, she lives in California.
Blair Brown, a veteran of the New York theater, received 5 Emmy® nominations for her starring role in The Days and Nights of Molly Dodd.