Dita: Stripteese (Hardcover)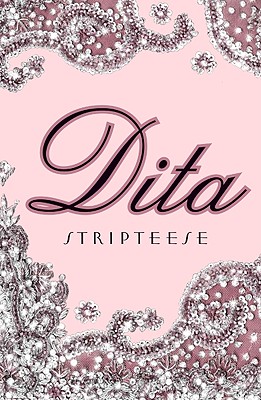 $33.00
This item is not currently available to order.
Description
---
Famed photographer Sheryl Nields brings burlesque superstar Dita Von Teese to life in a series of flip books that capture the dancer′s most intimate performances. A perfect collectible book for fans of Dita, classic burlesque devotees, or for anyone who loves a playful and beautifully packaged book, DITA: STRIPTEASE is an exquisite visual tribute to this one-of-a-kind performer, featuring three of her most beloved dances:
Martini Glass Show: Performed all over the world, the martini glass show is Dita′s most famous burlesque act. Featuring her in her "Diamonds in the Buff" costume, Dita performs a traditional striptease that culminates with her bathing herself in an oversize martini glass, complete with olive sponge.
Bird of Paradise Show: Inside a posh gilded Victorian birdcage, burlesque′s brightest star reinvents the classic feather fan dance with two lush oversize feather fans of exotic, rare magenta pheasant feathers. In an extraordinary costume of beautifully curved feathers, Dita spins around on her golden perch, and treats audiences to an unforgettable wet and wild finale as sparkling water showers over her body.
Classic Striptease: This striptease features Dita dressed in a vintage suit complete with a veiled hat, seamed stockings, and sky-high stilettos. Audiences get a glimpse into Dita′s personal wardrobe-and what she reveals underneath it!
About the Author
---
Dita Von Teese is the brightest star in burlesque since Gypsy Rose Lee. As style icon and muse to artists, designers, and photographers, she has appeared on magazine covers and runways for Jean Paul Gaultier, Moschino, and Giambattista Valli, and is the performer of choice for Marc Jacobs, Christian Louboutin, and Louis Vuitton. Her DIY beauty ethos and entrepreneurial ventures—designing award-winning perfumes, lingerie, gloves, and clothes, and as directing producer on her touring stage extravaganzas—have established her as a role model to women. Her books include the bestseller Burlesque and the Art of the Teese/Fetish and the Art of the Teese and Dita: Stripteese. Dita and her feline, Aleister, live under the gaze of the star-viewing Griffith Observatory in Los Angeles.
Praise For…
---
A decidedly adult twist on the old-school animation process…. A trio of flip books…portrays the alabaster-skinned vixen shedding vintage clothes or glittery costumes through three of her favorite routines.... For extra fun, flip 'em in reverse—and watch the burlesque queen put all her clothes back on.
— Los Angeles Times

"A highlight of Art Basel Miami Beach…Von Teese mounted a stage… in a pool at the Delano Hotel and did one of her signature burlesque shows, a coy striptease that left her naked except for [pink crystal panties] and pasties, straddling a giant lipstick that bucked like a mechanical bull."
— New York Times

"If anyone thought that Dita Von Teese was a passing character upon the pop culture stage, they'd be advised to take a closer look. . . . This queen of burlesque is proving to be the sort of, multifaceted player who is anything but a flash in the pan."
— Interview

"Burlesque dancer and model Dita Von Teese has not only mastered the art of taking her clothes off, but she's also the best in the business."
— Esquire UK

"In a sea of naked-faced, denim-clad Hollywood beauties, [Dita's] rouged, primped appearance and unabashed glamour were as exotic as a bird of paradise in a room full of daisies."
— Elle

"Just when you thought all was lost, along comes burlesque superheroine Dita Von Teese, a curvaceous, alabaster-skinned…immaculately coiffed stripper with a fondness for retro fashions and the attention to detail to do it right. Dita is giving burlesque a sweetly seductive second life and…more than a touch of class."
— Vanity Fair

"Dita was like a revelation to me the first time I met her. She is a dream come true, the ultimate elegant showgirl."
— Christian Louboutin, Los Angeles Times

"What made her such a compelling front-row presence was her knack for dressing head to toe in the work of the designer showing…but never once compromising her unique Bettie Page look. It was a magical trick….. Become a brand unto yourself. Know your signatures and stay true to them."
— Vogue

"Uninhibited, seriously smart and wickedly funny, Von Teese is a woman who refuses to allow her truth to be defined by moments captured thru the lenses of the paparazzi"
— 944 Magazine

"She is the queen of the modern burlesque revival, not just because she's mind-bendingly gorgeous and knows how to move, but because her commitment to the details of her art borders on the obsessive."
— Flaunt Magazine

"She's a jewel. The most beautiful and inspiring creature I've ever seen - so exquisite, so fine. She's a real showgirl."
— Mr. Pearl, Vogue

"The entrancing pocket Venus Dita Von Teese, the queen of the burlesque revival, she of the Vargas Girl looks and the Gibson-girl figure. Dita's old-fashioned act conjures images of Gypsy Rose Lee, another legendary strip-teaser known for dressing up beautifully as she was for undressing."
— Vogue

"She radiates old Hollywood glamour....With her raven hair, exciting body, engaging face and up-for-anything demeanor, Dita is a Bettie Page for our time."
— Playboy

"Self-named, self-invented, self-satisfying: Dita Von Teese is the greatest romantic creation of the modern age."
— Pop

"We've had more calls about Dita than any other show we've done, even Madonna. We could have sold out four nights and then some."
— Marc Smith, Koko, on selling out the famed UK venue in less than 24 hours