Belief: Readings on the Reason for Faith (Hardcover)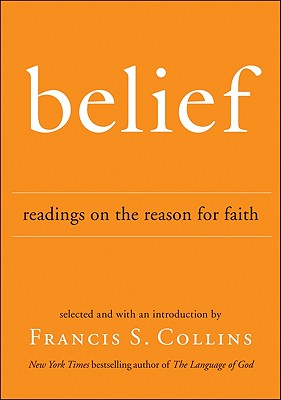 $21.99
This item is not currently available to order.
Description
---
"A brilliant, wide ranging and powerful series of readings on the possibilities, problems and mysteries of faith. This book belongs on the shelf of every believer—and every serious skeptic." — Rabbi David Wolpe, author of Why Faith Matters
"This life-giving, faith-filled and hard-nosed collection reveals why, as St. Anselm wrote, true faith always seeks to understand." — Rev. James Martin, author of My Life with the Saints
From Dr. Francis Collins, New York Times bestselling author of The Language of God, comes the definitive reader on the rationality of faith.
About the Author
---
Francis S. Collins, M.D., Ph.D., is a pioneer gene hunter. He spent fifteen years as director of the National Human Genome Research Institute, where he led the international Human Genome Project to a successful completion. For his revolutionary contributions to genetic research he was awarded the Presidential Medal of Freedom in 2007, and the National Medal of Science in 2009. He is the Director of the National Institutes of Health.
Praise For…
---
"BELIEF is more than an anthology; it is a provocation, a brilliant, wide ranging and powerful series of readings on the possibilities, problems and mysteries of faith. This book belongs on the shelf of every believer – and every serious skeptic."
— Rabbi David Wolpe, author of WHY FAITH MATTERS

"This life-giving, faith-filled and hard-nosed collection reveals why, as St. Anselm wrote, true faith always seeks to understand."
— Rev. James Martin, SJ, author of My Life With the Saints

"Because I teach in the area of faith and reason I have a shelf full of anthologies, and I have to say that this is the most varied and interesting of them all."
— Nancy Murphy, co-author of Did My Neurons Make Me Do It? and Professor of Christian Philosophy at Fuller Theological Seminary

"As I read through the chapters, I felt I was at a banquet table with old friends. What a feast Francis Collins has served!"
— Philip Yancy, author of What's So Amazing About Grace

A wonderful expose on the different arguments for religious and spiritual beliefs. These readings are critical for our understanding of religion and will be essential for fostering greater dialogue about the nature of religion in the future. An important read for anyone interested in the study of religion and spirituality.
— Andrew Newberg, M.D., author of Why God Won't Go Away

"Francis S. Collins—a foremost geneticist and author of the bestselling The Language of God—has compiled a rich array of readings in his new book."
— America Magazine

"Any seeking clarity on the debate between reason and faith will find this an engrossing collection."
— The Bookwatch