Neon Angel: A Memoir of a Runaway (Paperback)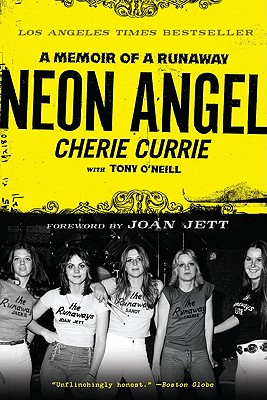 $16.99

Available in our Warehouse: Usually Ships in 3-8 Days
Description
---
In this candid autobiography, Cherie Currie—the original lead singer of '70s teenage all-girl rock band The Runaways—powerfully recounts her years in the band, her friendship with guitarist Joan Jett, and her struggle with drugs. An intense, behind-the-scenes look at rock music in the gritty, post-glam era, Neon Angel is a must-read for anyone whose heart beats to the rhythm of David Bowie, Suzi Quatro, Nick Gilder, and the Sex Pistols, and for every fan of the movie it inspired: The Runaways, starring Dakota Fanning and Kristen Stewart as Cherie Currie and Joan Jett.
About the Author
---
Cherie Currie has been described as "the lost daughter of Iggy Pop and Brigitte Bardot." Shortly after the Runaways disbanded, the rock star landed a coveted role in the Jodie Foster movie Foxes, and later went on to appear in a number of other films. Currie is still performing, writing, and acting, and she continues to take on unorthodox endeavors. One of the most prominent chain-saw carvers in the world, she placed in two major competitions in 2005. She lives in California with her son, Jake.
Tony O'Neill is the author of Digging the Vein and Down and Out on Murder Mile, and the coauthor of Neon Angel and the New York Times bestseller Hero of the Underground. He lives in New York with his wife and daughter.
Praise For…
---
"What truly amazes me is what a fine, honest, introspective author Cherie is, with an incredible tale about an incredible life, and a fascinating personal odyssey." — Joan Jett
"I don't think a lot of people know the story of Cherie Currie. It's an amazing story and she's an amazing woman and performer. " — Dakota Fanning on The Tonight Show
"Raw and riveting." — LA Weekly
"Details the band's short, messy history and the struggle with addiction that nearly claimed her life." — Entertainment Weekly
"[NEON ANGEL] reveals how the liberated life of a 16-year-old rock star in Los Angeles included many dark moments." — Spin
"Unflinchingly honest." — Boston Globe
"The striking thing about The Runaways, is how authentic it feels… One reason may be that the movie is partly based on Neon Angel, a newly revamped autobiography by the group's lead singer Cherie Currie, whose chillingly quick self-destruction is relived through Dakota Fanning." — New York Times
"Currie is looking forward to giving Neon Angel its second life…the new version, with a foreword by [Joan] Jett, adds the sex, drugs and darkness that were missing from the first edition." — Reuters