Dropped Names: Famous Men and Women As I Knew Them (Hardcover)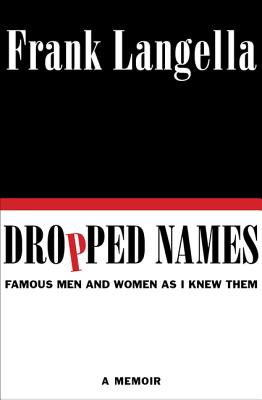 Email us for price & availability: info@oblongbooks.com
Special Order - Subject to Availability
Description
---
Rita Hayworth dancing by candlelight; Elizabeth Taylor tenderly wrapping him in her Pashmina scarf; streaking for Sir Laurence Olivier in a drafty English castle; terrifying a dozing Jackie Onassis; carrying an unconscious Montgomery Clift to safety on a dark New York street...
Captured forever in a unique memoir, Frank Langella's myriad encounters with some of the past century's most famous human beings are profoundly affecting, funny, wicked, sometimes shocking, and utterly irresistible. With sharp wit and a perceptive eye, Mr. Langella takes us with him into the private worlds and privileged lives of movie stars, presidents, royalty, literary lions, the social elite, and the greats of the Broadway stage. We learn something, too, of Mr. Langella's personal journey from the age of fifteen to the present day. Dropped Names is, like its subjects, riveting and unforgettable.
About the Author
---
Frank Langella has been a professional actor for over five decades and hopes to carry on for several more. He began performing as a boy in his hometown of Bayonne, New Jersey, and currently resides in New York City. This is his first book.
Praise For…
---
"Splendid. . . . As much a memoir as a primer on the vicissitudes of an actor's life, the book is a collage based on real-life situations that offer touching insights into stars like Rita Hayworth, and into the practical magic that informs Langella's signature sensibility."
— The New Yorker

"Rarely have I read a book about celebrities that is as insightful, candid, revealing, and as well-written as this one. Frank Langella's memoir is not the usual author's ego trip, but rather his remembrances of the many accomplished men and women that he has come to know."
— Gay Talese, author of A Writer's Life

"A delightfully unabashed page-turner about people we wish we had known in the throes of work, love, and growing old."
— A.R. Gurney, award-winning playwright

"Engaging. . . .Not just Langella's "famous people I have known," but a heartfelt love letter to the theater and to the days when stars were stars, not merely celebrities."
— Kirkus Reviews

"Dropped Names is a sizzling platter of stellar vignettes—pungent, for sure, but poignant too. . . . Mr. Langella is surgically precise, and eloquent. . . . The human condition in most of its vagaries is beautifully rendered between these pages."
— Liz Smith

" If Frank Langella's memoir simply did what its title promises, it would be deep-dish gossip. But his memories of the stars he's encountered during a lengthy career on Broadway and in film shed perceptive light on the costs of pursuing and maintaining fame."
— Detroit Free Press

"Langella's uncommonly eloquent book is enjoyable for the panoply of great names who turn up. . . . A natural raconteur, he seems to fit precisely Henry James's famous description of the novelist as one 'on whom nothing is lost.'"
— New York Times

"Frank Langella's DROPPED NAMES is a different kind of memoir. . . . Not many of his peers could write such an eloquently dishy book."
— Los Angeles Times

"The 65 chapters in this satisfyingly scandalous memoir paint Broadway and Hollywood as teeming with vulgar, neurotic and irresistible company, and Langella as relentlessly affable in the face of nonstop groping by celebrities in far-flung locations."
— Paperback Row, New York Times
We appreciate your continued support!
If you would like to make a donation to help us through CLICK HERE.