Pacific: Silicon Chips and Surfboards, Coral Reefs and Atom Bombs, Brutal Dictators and Fading Empires (Paperback)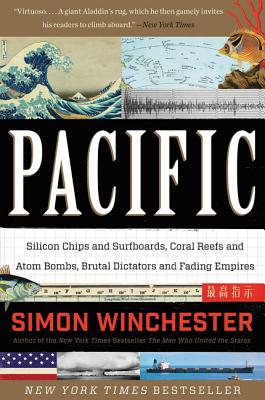 Description
---
One of Library Journal's 10 Best Books of 2015
Following his acclaimed Atlantic and The Men Who United the States, New York Times bestselling author Simon Winchester offers an enthralling biography of the Pacific Ocean and its role in the modern world, exploring our relationship with this imposing force of nature.
As the Mediterranean shaped the classical world, and the Atlantic connected Europe to the New World, the Pacific Ocean defines our tomorrow. With China on the rise, so, too, are the American cities of the West coast, including Seattle, San Francisco, and the long cluster of towns down the Silicon Valley.
Today, the Pacific is ascendant. Its geological history has long transformed us—tremendous earthquakes, volcanoes, and tsunamis—but its human history, from a Western perspective, is quite young, beginning with Magellan's sixteenth-century circumnavigation. It is a natural wonder whose most fascinating history is currently being made.
In telling the story of the Pacific, Simon Winchester takes us from the Bering Strait to Cape Horn, the Yangtze River to the Panama Canal, and to the many small islands and archipelagos that lie in between. He observes the fall of a dictator in Manila, visits aboriginals in northern Queensland, and is jailed in Tierra del Fuego, the land at the end of the world. His journey encompasses a trip down the Alaska Highway, a stop at the isolated Pitcairn Islands, a trek across South Korea and a glimpse of its mysterious northern neighbor.
Winchester's personal experience is vast and his storytelling second to none. And his historical understanding of the region is formidable, making Pacific a paean to this magnificent sea of beauty, myth, and imagination that is transforming our lives.
About the Author
---
Simon Winchester is the acclaimed author of many books, including The Professor and the Madman, The Men Who United the States, The Map That Changed the World, The Man Who Loved China, A Crack in the Edge of the World, and Krakatoa, all of which were New York Times bestsellers and appeared on numerous best and notable lists. In 2006, Winchester was made an officer of the Order of the British Empire (OBE) by Her Majesty the Queen. He resides in western Massachusetts.
Praise For…
---
"Revealing... delightful... fascinating... highly recommended."
— Janet Napolitano, San Francisco Chronicle

"Winchester does a virtuoso job. ... A giant Aladdin's rug, which he then gamely invites his readers to climb aboard."
— New York Times

"Fascinating, provocative, and at times, mildly terrifying. ... The hallmarks of Winchester's best work -- a fertile, curious mind, impeccable research and command of complex material -- are on full display here."
— Miami Herald

"Winchester has a smooth and easy prose style, one that is trustable and clear. ... He excels at guiding the reader with a contagious sense of wonder."
— Boston Globe

"[Winchester is] a terrific raconteur with a knack for making connections that might have eluded you between events behind the headlines. ... Where Pacific opts to go, it goes with savvy and verve."
— Seattle Times

"Winchester writes books like someone telling a good yarn around the fireplace... by interweaving history, fascinating trivia, and acute observation."
— New York Times Book Review

"A series of high-resolution literary snapshots. ... As we've come to expect from Winchester, there are plenty of delights. ... Winchester's passionate research... undergirds this superb analysis of a world wonder."
— Kirkus Reviews (starred review)

"Winchester is a terrific helmsman, both confident and smooth."
— Telegraph (UK)

"Winchester has prodigious gifts as a popular historian and an explainer of faraway events."
— Los Angeles Times

"Provocative... and lively."
— Wall Street Journal

"Popular history at its finest."
— Library Journal

"Winchester's vigorous prose and tireless dragnetting of interesting lore make this an entertaining read."
— Publishers Weekly

ONE OF THE WALL STREET JOURNAL'S "BEST BIOGRAPHIES OF 2015"
— No Source

ONE OF KIRKUS REVIEWS' "BEST BOOKS OF 2015"
— No Source
We appreciate your continued support!
If you would like to make a donation to help us through CLICK HERE.