The Last Best Story (Hardcover)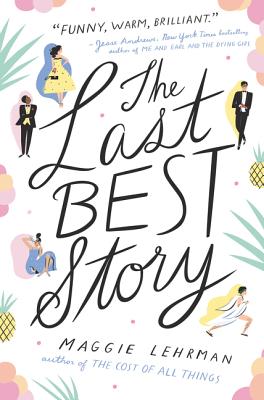 Staff Reviews
---
I read this in one sitting, seriously, I sat down and did not, could not, get up until I was staring at the last page, not quite believing that it was over. Our two main characters, Rose and Grant, are trapped at their senior prom when the school goes into lockdown. Grant, the editor of the school paper, is still hoping that Rose, his star reporter, will make up with him after mysteriously quitting the paper several months before. Rosie is hoping to put Grant, and their not-quite-relationship behind her. The lock down messes with both of their plans, as Grant is stuck in the gym along with the rest of the school, while Rosie is trapped outside the gym. They work together to uncover what has put the school on lock down, and along the way explore their relationship and what drove them apart. It's part thriller part rom-com, and I can't recommend it highly enough!
— Agnes
Description
---
A witty, fresh romantic comedy, set on one fateful prom night, about two high-schools seniors who can't quite admit they are in love. Think E. Lockhart meets Katie Cotugno.
It's the end of senior year, and Rose Regnero is over it.
She's over chasing stories for a school newspaper no one reads. Over missing out on "normal" high school life. And most of all, over Grant Leitch: editor-in-chief, former close friend, never-quite-boyfriend. Now all she wants is a typical prom, complete with handsome date, fancy corsage, and dancing to cheesy pop songs.
It's the end of senior year, and Grant Leitch is in denial.
He's in denial about handing over the reins of the paper to an unworthy underclassman. In denial that Rose suddenly, inexplicably quit the paper and now won't talk to him. But mostly he's in denial that she is at prom with another guy, and it's no one's fault but his own. Grant's only hope of luring Rose back to him (and the paper) is a juicy story she won't be able to resist.
In the end it takes a toga-wearing prom crasher, an emergency lockdown, a secret stalker, and a wild after-party to bring Grant and Rose together for one last story...and one final chance to admit that they're made for each other.
About the Author
---
Maggie Lehrman is a writer and editor living in Brooklyn, New York. She grew up outside of Chicago and went on to get a degree in English at Harvard, where she once received a grant to purchase young adult books the library didn't have. During her decade of working as an editor of books for children, she also earned an MFA in Writing for Children and Young Adults from Vermont College of Fine Arts. She is the author of The Cost of All Things and The Last Best Story.
Praise For…
---
"Honest, messy, and infinitely charming. This is my favorite kind of love story."
— Becky Albertalli, award-winning author of Simon vs. the Homo Sapiens Agenda

"The Last Best Story is the first best high school newspaper screwball romantic comedy. Rosie and Grant are funny and warm and too brilliant for their own good, and I would spend another 1000 pages hanging out with them if I could."
— Jesse Andrews, New York Times bestselling author of Me, Earl, and the Dying Girl

"Smart and bighearted and deliriously fun. The Last Best Story crackles."
— Katie Cotugno, New York Times bestselling author of 99 Days

"Readers [are] likely to find enjoyment from the spirited characters and entertaining story line."
— ALA Booklist