The State of Affairs: Rethinking Infidelity (Paperback)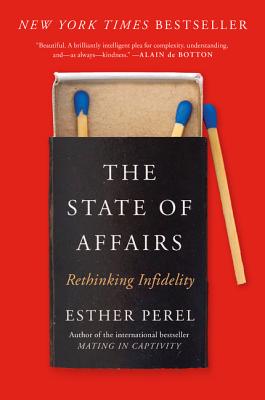 $19.99

Available in our Warehouse: Usually Ships in 3-8 Days
Description
---
"A fresh look at infidelity, broadening the focus from the havoc it wreaks within a committed relationship to consider also why people do it, what it means to them, and why breaking up is the expected response to duplicity — but not necessarily the wisest one." — LA Review of Books
From iconic couples' therapist and bestselling author of Mating in Captivity comes a provocative and controversial look at infidelity with practical, honest, and empathetic advice for how to move beyond it.
An affair: it can rob a couple of their relationship, their happiness, their very identity. And yet, this extremely common human experience is so poorly understood. What are we to make of this time-honored taboo—universally forbidden yet universally practiced? Why do people cheat—even those in happy marriages? Why does an affair hurt so much? When we say infidelity, what exactly do we mean? Do our romantic expectations of marriage set us up for betrayal? Is there such a thing as an affair-proof marriage? Is it possible to love more than one person at once? Can an affair ever help a marriage? Perel weaves real-life case stories with incisive psychological and cultural analysis in this fast-paced and compelling book.
For the past ten years, Perel has traveled the globe and worked with hundreds of couples who have grappled with infidelity. Betrayal hurts, she writes, but it can be healed. An affair can even be the doorway to a new marriage—with the same person. With the right approach, couples can grow and learn from these tumultuous experiences, together or apart.
Affairs, she argues, have a lot to teach us about modern relationships—what we expect, what we think we want, and what we feel entitled to. They offer a unique window into our personal and cultural attitudes about love, lust, and commitment. Through examining illicit love from multiple angles, Perel invites readers into an honest, enlightened, and entertaining exploration of modern marriage in its many variations.
Fiercely intelligent, The State of Affairs provides a daring framework for understanding the intricacies of love and desire. As Perel observes, "Love is messy; infidelity more so. But it is also a window, like no other, into the crevices of the human heart."
About the Author
---
Psychotherapist and New York Times bestselling author Esther Perel is recognized as one of today's most insightful and original voices on modern relationships.  Fluent in nine languages, she helms a therapy practice in New York City and serves as an organizational consultant for Fortune 500 companies around the world.  Her celebrated TED Talks have garnered more than 30 million views and her international bestseller Mating in Captivity: Unlocking Erotic Intelligence is a global phenomenon that has been translated into nearly 30 languages.  Her newest book is the New York Times bestseller The State of Affairs:  Rethinking Infidelity.  Esther is also an executive producer and host of the popular podcasts Where Should We Begin? and How's Work?  Learn more at EstherPerel.com or by following @EstherPerelOfficial on Instagram.  
Praise For…
---
"[One of the] best books of 2017... In The State of Affairs, Perel explores a vast landscape of the adulterous terrain... in a way that's deeply humane and never preachy." — NPR's Guide to 2017's Greatest Reads
"The State of Affairs takes a fresh look at infidelity, broadening the focus from the havoc it wreaks within a committed relationship to consider also why people do it, what it means to them, and why breaking up is the expected response to duplicity — but not necessarily the wisest one." — LA Review of Books
"[Perel] deals with the mess and pain of fractured relationships with searing honesty, astute observations and compassion… If your marriage were in trouble, you'd want her help." — Guardian (UK)
"As someone so completely plugged into the world of relationships, it makes sense that Perel would have some incredible insight into the most important one of all: the relationship we have with ourselves." — Shondaland
"She doesn't peddle in bromides or offer a shoulder to cry on — she's too busy trying to shake you to your senses, insisting on your agency, your vitality and your complicity in what happens in your marriage." — The New York Times
"Esther Perel is one of the most influential and well-known psychotherapists in the world. Through TED Talks, best-selling books, a podcast (Where Should We Begin?), and her clinical practice in New York City, she explores the one subject she believes interests every human: relationships." — The Cut, New York Magazine
"Sexologist Perel, a marriage crisis 'first responder,' excavates the messy psychology of infidelity, digging into such charged topics as the 'new shame' of wives—staying with a cheater—and why even happy partners sometimes stray." — O Magazine, 10 Books To Pick Up Now
"In her opinion, confronting and unearthing the why behind an affair with honesty and courage, can steer a relationship back from brink—possibly towards a place of erotic rediscovery." — Esquire
"Relationship therapist Esther Perel is probably the world's foremost authority on infidelity." — GQ, UK
"Esther Perel is America's first clear-eyed public intellectual on love." — Quartz
"Esther Perel is widely recognized as the world's leading expert on marriage." — Sunday Times Style by The Times of London
"The State of Affairs examines infidelity from all points of view – the person who cheated, the person who was cheated on, and the third party – in an attempt to understand how to make modern relationships more resilient." — Washington Post
"Perel is a master at what she does." — The New Yorker on podcast Where Should We Begin? with Esther Perel
"Ms. Perel doesn't recommend that couples be unfaithful—far from it. But she thinks that affairs can happen in stable, happy marriages, and that they often have more to do with a person than a relationship." — Wall Street Journal
"Perel suggests that one factor driving infidelity in otherwise happy marriages is the fact that we rely on our spouse for too much, particularly too much in our own quest for self-discovery." — New York Post
"The Book is sure to spark intelligent conversations that will have readers everywhere examining their belief systems… A thought-provoking take on relationships and essential reading for couples dealing with infidelity." — Publishers Weekly
"Unfailingly empathetic…. The State of Affairs is packed with such sage insights…. Through her formidable elegance, Perel manages to infuse some dignity into the pettiness of most betrayals." — Bookforum
"Perel takes an unconventional look at infidelity." — Associated Press
"With a Francophone accent that sounds just as knowledgeable as it does erotic, to say Perel is easy on the ears is an understatement." — Vogue on podcast Where Should We Begin? with Esther Perel
"Perel takes a peel-the-layers approach to infidelity that surprises on every page…. [She] weaves together a collection of personal stories that is both thrilling (you feel like you're eavesdropping) and moving." — Goop
  — CNN
"If anyone knows the varied ways cheating can impact a marriage, it's Esther Perel." — Health magazine
"[Perel] uses her findings to confront some of the most controversial and uncomfortable topics…. Here is a woman who, after spending three decades listening to tales of lies, pain and illicit sex, still believes in our ability to love and be loved in an honest, nuanced way." — RED Magazine
"Sure to get a lot of people talking." — Megyn Kelly on Megyn Kelly TODAY
"One of the most respected voices on erotic intelligence, she views sexuality as a lens through which to examine the progressive or conservative forces at work in a society." — The Georgia Straight
 "Excellent." — Nasty Galaxy, the Nasty Gal blog
"Perel uses conversation, knowledge, intuition, and creativity to make incisive interpretations that, at their most elegant, are not only helpful but artful. Listening to these sessions is deeply provoking." — Slate on podcast Where Should We Begin? with Esther Perel
"[Perel is] a genius in this area of understanding deep relationships." — Tony Robbins, The Tony Robbins Podcast
"[Perel] is the real deal and very, very insightful…. Highly recommend [The State of Affairs]." — Tim Ferriss, The Tim Ferriss Show
"She has an incredible ability to speak the truth in a way that cuts you to the core and also makes you feel safe to explore topics we usually don't talk about." — Lewis Howes, The School of Greatness podcast
"There's a reason Esther Perel is the sex expert people can't stop reading: she gets results." — The Leslie Roberts Show
"It's fascinating because it makes you question your beliefs on the nature of adultery when you view it in a less one-dimensional way." — The Times (UK)
"It's the knowledge and research Perel has amassed on infidelity over the years, through her work as a couple's therapist, that's most compelling…. Perel is defiantly non-judgmental." — Telegraph (UK)
"Perel proposes a radically new way of thinking about infidelity that goes beyond the havoc it wreaks and drills down to its motives." — The Globe and Mail (Canada)
"This is an addictive read. Beautifully written by Esther Perel, author of bestseller Mating in Captivity, [The State of Affairs] delves into the murky world, of deceit, betrayal and ultimate pain." — Starts at 60 (Australia)
"Perel's well-researched book sheds light on the idea that couples not only have the ability to move past an infidelity, but they can come out stronger." — mindbodygreen
"Esther Perel, a well known Belgian therapist who works with couples and speaks quite a bit on infidelity, says that affairs are not merely an act of betrayal but also an expression of longing and loss." — Bravo TV