Purple Hearts (Front Lines #3) (Paperback)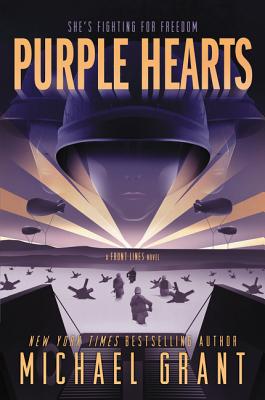 Other Books in Series
This is book number 3 in the Front Lines series.
Description
---
New York Times bestselling author Michael Grant unleashes the gritty and powerful conclusion to the Front Line series and evokes the brutal truth of World War II: War is hell. An epic tale of historical reimagining, perfect for fans of Code Name Verity and Salt to the Sea.
Courage, sacrifice, and fear have lead Rio, Frangie, and Rainy through front-line battles in North Africa and Sicily, and their missions are not over. These soldiers and thousands of Allies must fight their deadliest battle yet—for their country and their lives—as they descend into the freezing water and onto the treacherous sands of Omaha Beach. It is June 6, 1944. D-Day has arrived.
No longer naive recruits, these soldier girls are now Silver Star recipients and battle-hardened. Others look to them for guidance and confidence, but this is a war that will leave sixty million dead. Flesh will turn to charcoal. Piles will be made of torn limbs. The women must find a way to lead while holding on to their own last shreds of belief in humanity.
Praise for Silver Stars:
"Exhaustive research, immersive storytelling, and emotional depth make for a superlative tale." —Kirkus (starred review)
Praise for Front Lines:
"A gripping and heart-wrenching tale."—Publishers Weekly (starred review)
"A magnificent alternate history." —Elizabeth Wein, New York Times bestselling author of Code Name Verity
About the Author
---
Michael Grant, author of the Gone series, the Messenger of Fear series, the Magnificent Twelve series, and the Front Lines trilogy, has spent much of his life on the move. Raised in a military family, he attended ten schools in five states, as well as three schools in France. Even as an adult he kept moving, and in fact he became a writer in part because it was one of the few jobs that wouldn't tie him down. His fondest dream is to spend a year circumnavigating the globe and visiting every continent. Yes, even Antarctica. He lives in California with his wife, Katherine Applegate, with whom he cowrote the wildly popular Animorphs series. You can visit him online at www.themichaelgrant.com and follow him on Twitter @MichaelGrantBks.
Praise For…
---
"A narrator leads readers through the horrific and terrifying experience of being a soldier girl during one of America's most challenging wartime episodes, using their three distinct vantage points to create a fuller picture of the chaos and destruction. This concluding novel in the Front Lines series is compelling." — Booklist Online
"This series continues to be a fascinating, stunningly written examination of both war and women's role in it, and this installment only adds to its already considerable depth." — Booklist (starred review)
Praise for FRONT LINES: "The history is illuminating and fascinating, but where Grant excels even more is in the immersive storytelling and compelling bonds among the multifaceted characters. Just as classic war novels demonstrate how war can reveal common humanity, Grant's exploration of women in battle is no different." — Booklist (starred review)
"All of the protagonists are well-developed individuals, but also represent 'every soldier girl who carried a rifle, dug a hole, slogged through mud, steamed or froze, prayed or cursed, raged or feared, ran away or ran toward.' A gripping and heart-wrenching tale." — Publishers Weekly (starred review)
"The main characters are all well-drawn, strong women, and the wartime events are well researched and accurate. The alternative history and wartime plot, which reads like a movie, will appeal to many." — School Library Journal
"The experiences of female soldiers in the military are plainly and honestly depicted…an immersive, powerful tale." — Bulletin of the Center for Children's Books
"The fast pace of this novel, along with its relatable characters and engaging plot, will easily draw in reluctant readers. Grant's well-researched details of living conditions that WWII soldiers endured will appeal to fans of historical fiction. Readers of this book will be anxiously awaiting the sequel." — Voice of Youth Advocates (VOYA)
"What if American women had fought alongside men in World War II? Michael Grant gives us a magnificent alternate history that feels so real and right and true it seems impossible that it wasn't. Every one of these fictional soldiers has wrapped herself around my heart." — Elizabeth Wein, Award-winning and New York Times Bestselling Author of Code Name Verity
"Michael Grant is a master of twists that not only tear at his readers' consciences, they hold a mirror up to our here and now and insist we consider what might otherwise be. FRONT LINES is a masterpiece of speculative story crafting." — Andrew Smith, Michael L. Printz Honor winning author of Grasshopper Jungle
"Front Lines does what great epics are meant to do: tells us the human side of history with honesty, wit, and clarity. Just because it didn't happen this way, doesn't mean it isn't true." — C. Alexander London, author of Proxy and Dog Tags and Tides of War series
"Vivid and visceral, Michael Grant's remarkable work of alternate history brings World War II to breathtaking life. With its cast of memorable and appealing characters, Front Lines is irresistibly readable and absolutely unforgettable." — Michael Cart, Past YALA President and Booklist columnist and reviewer