The Autoimmune Solution: Prevent and Reverse the Full Spectrum of Inflammatory Symptoms and Diseases (Paperback)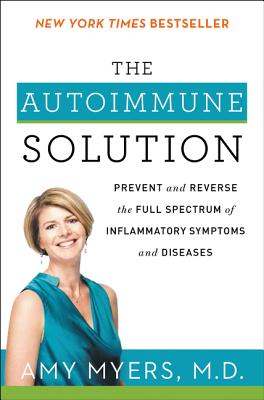 $15.99

Available in our Warehouse: Usually Ships in 3-8 Days
Description
---
Over 90 percent of the population suffers from inflammation or an autoimmune disorder. Until now, conventional medicine has said there is no cure. Minor irritations like rashes and runny noses are ignored, while chronic and debilitating diseases like Crohn's and rheumatoid arthritis are handled with a cocktail of toxic treatments that fail to address their root cause. But it doesn't have to be this way.
In The Autoimmune Solution, Dr. Amy Myers, a renowned leader in functional medicine, offers her medically proven approach to prevent a wide range of inflammatory-related symptoms and diseases, including allergies, obesity, asthma, cardiovascular disease, fibromyalgia, lupus, IBS, chronic headaches, and Hashimoto's thyroiditis.
About the Author
---
Amy Myers, M.D., is a specialist in autoimmune diseases whose career was set in motion by her own experience dealing with autoimmune issues. Myers graduated cum laude from the Honors College at the University of South Carolina and earned her medical degree at Louisiana State University Health Sciences Center. After completing her residency in emergency medicine at the University of Maryland, she founded the nationally renowned functional medicine center Austin UltraHealth, where she currently serves as its medical director.
Praise For…
---
"The Autoimmune Solution is a medical breakthrough. Dr. Myers' protocol is a proven way to heal and reverse any illness on the autoimmune spectrum. This book revolutionizes the way we understand and treat autoimmunity and I am thrilled to be able to recommend it to my patients." — Mark Hyman, M.D., author of The Blood Sugar Solution 10- Day Detox Diet
"Dr. Amy Myers is an inspiring, pioneering voice in the prevention and treatment of autoimmune conditions. This guide presents her straightforward, action-oriented plan for healing your gut and detoxifying your surroundings. The Autoimmune Solution has the power to change the lives of millions." — Robb Wolf, author of The Paleo Solution
"Dr. Amy Myers begins by writing that modern medicine failed her when her immune system failed. I believe this was a blessing in disguise. Dr. Myers has made this her life's work and her book The Autoimmune Solution is a gift to humanity." — Alejandro Junger, M.D. author of Clean
"The Autoimmune Solution is a long awaited and scientifically validated approach to autoimmune conditions that relegates the standard approach of simply managing symptoms to being a relic of the past. Dr. Myers' plan will fundamentally change the trajectory of your health for the better." — David Perlmutter, M.D., author of Grain Brain
"At long last, a solution to autoimmune disorders! With her proven, easy-to-follow health protocol, Dr. Amy Myers turns conventional medicine on its head and, in the process, offers hope, answers, and security to the millions of people coping with a full spectrum of inflammatory illness and autoimmune diseases." — Frank Lipman, M.D., author, educator, and founder of the Eleven Eleven Wellness Center in New York City
"Dr. Amy Myers lives and breathes advocacy. She supports the unfolding of you most easeful, fulfilled self and helps to uncover and clear what's in the way with gentle (but firm) support, humor and comprehensive tools. I so appreciate her passion for learning and health and trust her completely." — Kathlyn Hendricks, Ph.D., BC-DMT, Co-Author of Conscious Loving and The Conscious Heart
"Those with autoimmune issues should welcome this helpful and hopeful resource from a physician who walks her talk." — Publishers Weekly
"Americans who suffer from psoriasis, type 1 diabetes, and other autoimmune diseases will find many alternative ideas in this guide….her recipes for dishes like a salmon avocado bowl seem healthy and tasty, and her bibliography is thorough." — Booklist
"The Autoimmune Solution busts many of the conventional wisdom myths surrounding autoimmune disease, explaining where conventional medicine goes wrong and empowering patients to be proactive....The best part of all of this is that Amy's language is very approachable and down-to-Earth." — The Paleo Mom