Departure (Paperback)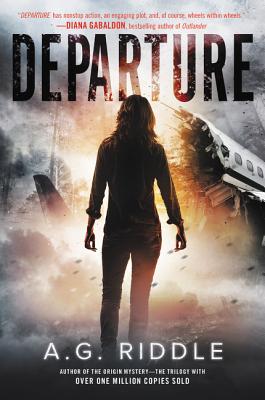 $16.99

Available in our Warehouse: Usually Ships in 3-8 Days
Description
---
From the author of the #1 bestselling The Atlantis Gene comes a new novel in which the world's past and future rests in the hands of five unwitting strangers in this definitive edition of A. G. Riddle's time-traveling, mind-bending speculative thriller.
En route to London from New York, Flight 305 suddenly loses power and crash-lands in the English countryside, plunging a group of strangers into a mysterious adventure that will have repercussions for all of humankind.
Struggling to stay alive, the survivors soon realize that the world they've crashed in is very different from the one they left. But where are they? Why are they here? And how will they get back home?
Five passengers seem to hold clues about what's really going on: writer Harper Lane, venture capitalist Nick Stone, German genetic researcher Sabrina Schröder, computer scientist Yul Tan, and Grayson Shaw, the son of a billionaire philanthropist.
As more facts about the crash emerge, it becomes clear that some in this group know more than they're letting on—answers that will lead Harper and Nick to uncover a far-reaching conspiracy involving their own lives. As they begin to piece together the truth, they discover they have the power to change the future and the past—to save our world . . . or end it.
A wildly inventive and propulsive adventure full of hairpin twists, Departure is a thrilling tale that weaves together power, ambition, fate, memory, and love, from a bold and visionary talent.  
About the Author
---
A. G. Riddle spent ten years starting Internet companies before retiring to pursue his true passion: writing fiction. He is the author of the Origin Mystery, the million-copy bestselling trilogy—including The Atlantis Gene, The Atlantis Plague, and The Atlantis World. A native of North Carolina, he lives in Florida with his wife.
Praise For…
---
"Well-constructed and tightly-wound as a fine Swiss watch--DEPARTURE has non-stop action, an engaging plot and, of course, wheels within wheels." — Diana Gabaldon, bestselling author of Outlander on DEPARTURE
"Well written and edited, Departure is an imaginative sci-fi action adventure that will satisfy any sci-fi or action thriller fan; adrenaline with a message. 5-Stars." — Clabe Polk Mystery and Adventure