Menopause Confidential: A Doctor Reveals the Secrets to Thriving Through Midlife (Hardcover)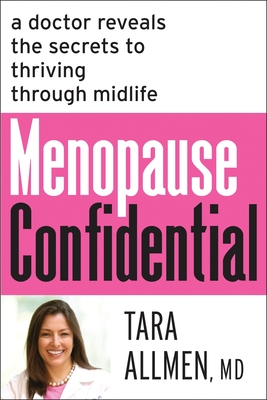 $29.69
This item is not currently available to order.
Description
---
An authoritative guide to understanding and navigating the hormonal changes and health issues women experience in midlife and beyond, from one of the leading medical experts in the field.
The physical changes that occur after forty are inevitable—and can be unnerving. Perimenopause and menopause affect every aspect of a woman's life—from sex and sleep to mood and mental clarity to weight and body temperature. While there are a number of resources available, many are confusing and contradictory. Dr. Tara Allmen, a board-certified gynecologist, North American Menopause Society (NAMS) certified menopause practitioner, and the recipient of the 2016 Castle Connolly Top Gynecologist in NYC, shares her expertise to help midlife women transform this challenging time into the best years of their life.
Written in her effervescent yet assured voice, Menopause Confidential provides cutting-edge information and practical advice on:
the symptoms and hormonal changes of perimenopause and menopause
the health risks associated with midlife—from clarifying the conflicting opinions about health screenings (How often should I get a mammogram and Pap test?) to serious medical conditions, such as osteoporosis and heart disease
 various remedies, both allopathic and natural, to improve symptoms and empower women to make individual choices
practical tips and reliable resources for living a healthy life 
As a Fifty-something herself, Dr. Allmen knows firsthand what women are going through, and shares stories of her own personal journey through the menopause transition. Women can't turn back the clock, but they can take control of their health and flourish in midlife. Menopause Confidential inspires them to be informed, proactive, and reach for their greatest and healthiest selves.
About the Author
---
Tara Allmen, MD, is one of America's leading experts in midlife women's health. She is a board-certified gynecologist and NAMS-certified menopause practitioner (NCMP). Dr. Allmen has educated thousands of medical professionals around the country in perimenopausal and menopausal medicine. She has been featured on the Dr. Oz Show as well as Good Morning America, NBC, CBS, and FOX News. She lives in New York City with her handsome husband, two adorable children, and a small dog named Sadie.
Praise For…
---
"Stemming from more than just a gynecological context, this book offers intimate and honest advice on the cumulative menopausal experience. VERDICT: Recommended for women over 40 or those looking for insight into women's health."
— Library Journal

Menopause Confidential is real, witty, and greatly needed. Dr. Allmen takes the myth out of perimenopause and menopause. She is one of us and that's powerful. This book will not be the next door stopper but the book that changes and saves women's lives.
— Michelle King Robson, Founder of HER Inc. (EmpowHER and SkinSAFE)

Dr. Tara Allmen offers sound, medically accurate advice with verve, aplomb, and an incredible sense of humor. Menopause Confidential is an overwhelming success. Every woman over forty should read it.
— James A. Simon, MD, Clinical Professor at George Washington University, Women's Health & Research Consultants in Washington, DC

Dr. Allmen has a way of turning uncomfortable and awkward topics into informative action plans. I highly recommend this book, which will leave any reader more knowledgeable and with a feeling of empowerment and optimism. It's a tremendous service to womankind.
— Dr. Beverly Wendland, Dean of Arts and Sciences, Johns Hopkins University

"As a midwife and women's health care provider, I highly recommend this very humorous, well written and researched book to everyone. In addition, I think it should definitely be required reading for every nursing, medical and midwifery student early in their educational program."
— John Fassett, MS, CNM, RNP, California Pacific Medical Center, Sutter Pacific Medical Foundation

Menopause Confidential is fun and informative, factual and entertaining. Dr. Allmen's style is causal and engaging, making for a book that is simply hard to put down. Great gift for women marching toward mid-life — and their loved ones accompanying them. Highly recommended.
— George F. Sawaya, MD, Professor Obstetrics, Gynecology and Reproductive Sciences, Epidemiology & Biostatistics, University of California, San Francisco