The Truth as Told by Mason Buttle (Paperback)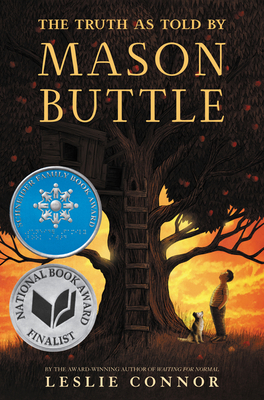 Staff Reviews
---
What a hard hitting emotional read! Dealing with the loss of a friend, Mason tries to recall the details about the tragedy that occurred in his family's orchard. Trying to find the words is hard for Mason with his learning disability. He makes friends with a Calvin, a small, quiet and very intelligent boy. Together they try to escape the attacks of a bully. Mason is a strong and loyal character with a huge heart and he will quickly find his way into yours.
— Carissa
Description
---
From the critically acclaimed author of Waiting for Normal and All Rise for the Honorable Perry T. Cook, Leslie Connor, comes a deeply poignant and beautifully crafted story about self-reliance, redemption, and hope. This middle grade novel is an excellent choice for tween readers in grades 5 to 6, especially during homeschooling. It's a fun way to keep your child entertained and engaged while not in the classroom.
Mason Buttle is the biggest, sweatiest kid in his grade, and everyone knows he can barely read or write. Mason's learning disabilities are compounded by grief. Fifteen months ago, Mason's best friend, Benny Kilmartin, turned up dead in the Buttle family's orchard.
An investigation drags on, and Mason, honest as the day is long, can't understand why Lieutenant Baird won't believe the story Mason has told about that day.
Both Mason and his new friend, tiny Calvin Chumsky, are relentlessly bullied by the other boys in their neighborhood, so they create an underground haven for themselves. When Calvin goes missing, Mason finds himself in trouble again. He's desperate to figure out what happened to Calvin and, eventually, Benny.
But will anyone believe him?
National Book Award Finalist * ALA Schneider Family Book Award * 2019 ALSC Notable Children's Book * Publishers Weekly Best Books of 2018 * 2019-2020 Nebraska Golden Sower Award * Amazon Best Books of 2018 * Kirkus Best of Children's 2018 * New York Public Library Best Books 2018 * Chicago Public Library Best of the Best Books 2018 * 2018 Nerdy Book Club Middle Grade Winner * South Carolina Junior Book Award Nominee * 2020 Colorado Children's Book Award Nominee * Bank Street Best Children's Book of the Year 2019 (9-12) * 2020 Grand Canyon Reader Award Nominee * 2020-2021 Missouri Association of School Librarians Mark Twain Readers Award Preliminary Nominee * 2020-2021 Indiana Young Hoosier Book Award Nominee *
About the Author
---
Leslie Connor is the author of several award-winning books for children, including two ALA Schneider Family Book Award winners, Waiting for Normal and The Truth as Told by Mason Buttle, which was also selected as a National Book Award finalist. Her other books include All Rise for the Honorable Perry T. Cook, Crunch, and The Things You Kiss Goodbye. She lives in the Connecticut woods with her family and three rescue dogs. You can visit her online at www.leslieconnor.com.
Praise For…
---
"In this sensitively written novel, Connor introduces a learning-disabled 12-year-old who will warm readers' hearts and earn their respect with his honesty and compassion. Poignant and suspenseful, Mason's story crystalizes an adolescent boy's joys and fears as he comes into his own."
— Publishers Weekly (starred review)

"Connor expertly captures the camaraderie of Calvin and Mason. A poignant underdog tale that will resonate with many young readers."
— School Library Journal (starred review)

"In a moving first-person narrative, Connor reveals a remarkably distinct and memorable character. [T]he author weaves the back story into a narrative of redemption chronicling his growing friendships. Connor's gift for creating complex characters extends to the supporting characters and makes this a compelling read."
— Kirkus Reviews (starred review)

"Connor's portrayal of Mason is spot-on, and the seventh-grader's honesty shines through as his greatest attribute. Laced throughout the story, and evident at the end, is hope for a brighter future, both for the entire family and the community. A thoughtful look at human nature, resilience, and love."  
— Booklist

"Mason's voice is honest and true, and the multifaceted characters both enrich and propel the narrative."
— Horn Book Magazine

"Could I love a character more than I love Mason Buttle? Nope. Could this book have captured my heart any more? Impossible."
— Barbara O'Connor, author of How to Steal a Dog and Wish

"A book that breaks your heart and heals it—all in one. Mason's story is brilliantly told. This is an astonishing book!"
— Kirby Larson, author of Newbery Honor title, Hattie Big Sky and the Audacity Jones series

"Mason's astonishing voice will grab you from the first page, as he demonstrates how children with learning disabilities who 'think outside the box' can find brilliant ways to survive bullying, be a good friend, and save their families."
— Cammie McGovern, author of Just My Luck and Chester and Gus

"Rich, moving, and redemptive, The Truth as Told by Mason Buttle will immerse readers from the first page to the last and is certain to linger with them for a long time to come."
— Books to Borrow . . . Books to Buy
We appreciate your continued support!
If you would like to make a donation to help us through CLICK HERE.