One Time (Hardcover)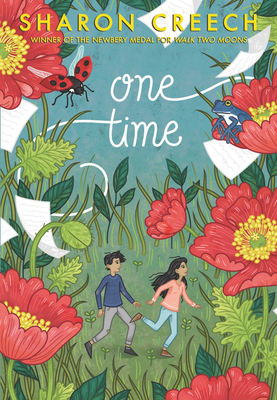 Description
---
From Sharon Creech, Newbery Medal winner and New York Times bestselling author, comes a powerful coming-of-age story of a girl who discovers the endless possibilities her future may hold, with help from a brilliant teacher and a boy with a generous smile.
Perfect for fans of Love That Dog, this tale is about the transformative power of imagination and the journey to becoming who you are meant to be. This middle grade novel is an excellent choice for tween readers in grades 5 to 6, at home or at school. It's a fun way to keep your child entertained and engaged while not in the classroom.
Gina Filomena has been told she has an overactive imagination. With her bright clothing and artistic spirit, she's always felt different from the other kids in her class. That is, until she meets her new neighbor, a mysterious boy named Antonio with a wide, welcoming smile.
Add in a creative new teacher, Miss Lightstone, and a world of possibilities opens up for Gina, Antonio, and their classmates. With the help of Antonio and Miss Lightstone, will Gina find the answers to the questions Who am I? and Who do I want to be?
About the Author
---
Sharon Creech has written twenty-one books for young people and is published in over twenty languages. Her books have received awards in both the U.S. and abroad, including the Newbery Medal for Walk Two Moons, the Newbery Honor for The Wanderer, and Great Britain's Carnegie Medal for Ruby Holler.
Before beginning her writing career, Sharon Creech taught English for fifteen years in England and Switzerland. She and her husband now live in Maine, "lured there by our grandchildren," Creech says.
www.sharoncreech.com
Praise For…
---
"Creech writes Gina's narration with comfortable magic...The real focus here is the magic of storytelling, as the class falls in love with Miss Lightstone's literary leadershipand develops their own voices… Ultimately, the book renders the familiar charmed in a way that will gratify youngsters seeking to bring enchantment into their own lives."  
— Bulletin of the Center for Children's Books

"A standout teacher and mysterious new student open the minds and notebooks of Gina Filomena and her fellow classmates…Gina, her classmates, and readers simultaneously discover that with most people there is far more than meets the eye. Newbery-winning Creech skillfully catches Gina at the point in life when a child's small world opens up into a much wider adult one. As Gina navigates this transition, the line between real and imagined is blurred... For fans of Creech's hallmark beautiful writing…"
— Kirkus Reviews

"Miss Lightstone, asks her students to think about the question "Who are you?" and later adds, "Who could you be?" With these two simple yet enormous questions, Gina begins to study and understand herself. Creech's newest novel is an invitation to the reader, as much as it is to Gina, to see the world through fresh eyes…Creech's prose is inviting, and the introspective reader will easily relate to Gina's observations of her world; but the book also holds appeal for a wider audience of readers who long for adults to challenge and stretch them as Miss Lightstone challenges her students."
— Horn Book Magazine

"Their young language arts teacher, who starts the year by writing 'Who are you?"'on the board, encourages reflection, imagination, and self-expression, while instilling a love of writing in her students...on the last page, Gina wonders about the reader, asking, 'Who are you? Who could you be?' A thought-provoking chapter book from start to finish."
— Booklist
We appreciate your continued support!
If you would like to make a donation to help us through CLICK HERE.