The Sentence (Hardcover)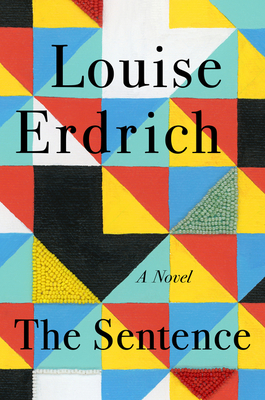 $28.99

Available in our Warehouse: Usually Ships in 3-8 Days
Staff Reviews
---
On top of being an excellent novel, "The Sentence" is such a beautiful testament to bookselling in a pandemic. Louise is a bookseller, so she knows her stuff. I am so glad she is sharing this story with the world.
— Suzanna
Wow! This book is spectacular. I adore Tookie. Louise Erdrich has perfectly captured the experience of bookselling in these haunting times.
— Sarah
This is the book you need to read right now, a balm for the soul. My copy is dogeared and underlined, so I can find my way back to my favorite passages, so many of which are about the enduring love between narrator Tookie and her husband (oh man, I want what they have). Louise Erdrich has captured the tender, powerful beauty of ordinary life, and these pages drip with a poignant love and gratitude for those simple things that are in fact everything--family, seasons, nighttime walks, community, soup. Oh, and it's a ghost story!
— Anna S
Description
---
"Dazzling. . . . A hard-won love letter to readers and to booksellers, as well as a compelling story about how we cope with pain and fear, injustice and illness. One good way is to press a beloved book into another's hands. Read The Sentence and then do just that."—USA Today, Four Stars
In this New York Times bestselling novel, Pulitzer Prize and National Book Award–winning author Louise Erdrich creates a wickedly funny ghost story, a tale of passion, of a complex marriage, and of a woman's relentless errors.
Louise Erdrich's latest novel, The Sentence, asks what we owe to the living, the dead, to the reader and to the book. A small independent bookstore in Minneapolis is haunted from November 2019 to November 2020 by the store's most annoying customer. Flora dies on All Souls' Day, but she simply won't leave the store. Tookie, who has landed a job selling books after years of incarceration that she survived by reading "with murderous attention," must solve the mystery of this haunting while at the same time trying to understand all that occurs in Minneapolis during a year of grief, astonishment, isolation, and furious reckoning.
The Sentence begins on All Souls' Day 2019 and ends on All Souls' Day 2020. Its mystery and proliferating ghost stories during this one year propel a narrative as rich, emotional, and profound as anything Louise Erdrich has written. 
About the Author
---
Louise Erdrich, a member of the Turtle Mountain Band of Chippewa, is the award-winning author of many novels as well as volumes of poetry, children's books, and a memoir of early motherhood. Erdrich lives in Minnesota with her daughters and is the owner of Birchbark Books, a small independent bookstore. 
Praise For…
---
"THE SENTENCE is a novel that reckons with ghosts—of both specific people but also the shadows resulting from America's violent, dark habits." — Kirkus Reviews (starred review)
"Scintillating…More than a gripping ghost story, THE SENTENCE offers profound insights into the effects of the global pandemic and the collateral damage of systemic racism. It adds up to one of Erdrich's most…illuminating works to date."         — Publishers Weekly (starred review)
"Imaginative, boldly honest...This novel's persistent search for meaning reveals astonishing, sublime depths...Erdrich's prose, layered with unforgettable flourishes of detail...enhances and deepens this growing sense of a larger collective haunting....The Sentence is a staggering addition to Erdrich's already impressive body of work." — BookPage
"The irreverent and funny Tookie grapples with the ghost, then the pandemic, then the protests. Her journey, captured in Erdrich's expert prose, is a cathartic and comforting story that book lovers will gobble up." — Real Simple
"Erdrich's fictional worlds bristle with the awareness that we are all ghosts-in-waiting and that the written word is a way to communicate with people both long dead and not yet born. This is how Erdrich can write a haunting story without invoking even the slightest hint of the gothic; how she blends contemporary politics with myth without breaking a stride." — Jo Livingstone, The New Republic
"A bewitching novel…Strange, enchanting and funny: a work about motherhood, doom, regret and the magic—dark, benevolent and every shade in between—of words on paper." — Molly Young, New York Times
"THE SENTENCE is a wonder...an utterly original, exhilarating novel...that burns with moral passion, brims with humor, and captivates with its striking and irresistible voice...A testament to the life-making importance of stories." — Priscilla Gilman, Boston Globe
"Among Erdrich's most magical novels…The Sentence is a ghost story that hovers between the realms of historical horror and cultural comedy…Moving at its own peculiar rhythm with a scope that feels somehow both cloistered and expansive, it captures a traumatic year in the history of a nation struggling to appreciate its own diversity." — Ron Charles, Washington Post
"The Sentence has a sometimes disconcerting you-are-there quality…though the events do amplify the novel's themes of social and personal connection and dissociation, and of the historic crimes and contemporary aggressions, micro and overt, perpetuated in the name of white supremacy." — Minneapolis Star-Tribune
"A deceptively big novel, various in its storytelling styles; ambitious in its immediacy…An absorbing and unquiet novel…that seems 'essential' for a deeper take on the times we are living through." — Maureen Corrigan, NPR
"As timely as it is unexpected: a pandemic ghost story, The Sentence captures the quietly simmering fury of summer 2020…Tookie's voice is genuine and humorous, her perspective rich with history and literacy." — Entertainment Weekly
"The many-hued, finely patterned weave of Erdrich's funny, evocative, painful, and redemptive ghost story includes strands of autobiography…Erdrich's insights into what her city Minneapolis experienced in 2020 are piercing; all her characters are enthralling, and her dramatization of why books are essential to our well-being is resounding." — Booklist (starred review)
"The Sentence testifies repeatedly to the power books possess to heal us and yes, to change our lives…There are books like this one, that while they may not resolve the mysteries of the human heart, go a long way toward shedding light on our predicaments. In the case of The Sentence, that's plenty."                                                             — New York Times Book Review
"This novel, with its spiky yet warm main character and homage to the world of bookselling and reading, is an utterly delightful read that doesn't shy away from 2020's misery and uncertainty." — Buzzfeed
"Dazzling...A hard-won love letter to readers and to booksellers, as well as a compelling story about how we cope with pain and fear, injustice and illness. One good way is to press a beloved book into another's hands. Read The Sentence and then do just that." — USA Today (four stars)
"No one escapes heartache in The Sentence, but mysteries old and new are solved, and some of the broken places made stronger. The Sentence, a book about the healing power of books, makes its own case splendidly." — Tampa Bay Times
"Erdrich's playful wit and casual style belie a seriousness of purpose, which in the case of this winning novel, entails tackling the pandemic, the death of George Floyd, the trials of doing time in prison and not least, the power of books to change lives." — New York Times Book Review, Editor's Choice
"The Sentence sings when it traces how current events inflect Tookie's connection to Pollux…Erdrich's gifts—an intensity of honesty, a summoning of feeling that exhausts itself, deliriously, in images—are on full display here. The images reverberate because the feelings are true." — The New Yorker