Tangerine: A Novel (Hardcover)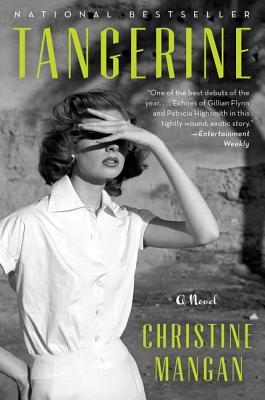 $29.69
This item is not currently available to order.
Staff Reviews
---
A taut psychological thriller set against the lush landscape of Tangier in the 1950's.
When Lucy hears the news that her estranged best friend from college has moved to Tangier with her new husband, she books a ticket to follow her. They haven't spoken since 'the accident', but maybe that's all water under the bridge? Tangerine is a compelling mystery that explores the dynamics of social boundaries, friendship, and identity and will certainly keep you on the edge of your seat the whole way through.
— Noelle
April 2018 Indie Next List
---
"Tangerine is one of the best debut novels I've read in a long time. Thanks to her exquisite writing, Christine Mangan manages to create a lush, vivid picture of Tangier in the 1950s and bring to life a complicated and very dark friendship between two young women. Lucy and Alice are former college roommates whose relationship has long since gone sour. When they reunite in Tangier, Mangan milks the delicious tension for all it's worth and brings their story to a shocking conclusion. This book is an absolute stunner!"
— Erika VanDam, RoscoeBooks, Chicago, IL
Summer 2019 Reading Group Indie Next List
---
"Two women who met in college but parted ways over tragedy find themselves together again in 1950s Tangiers. Neither narrator is entirely trustworthy, so as the secrets surrounding their last meeting come to light, the tension ratchets up and we realize that it's about to happen all over again."
— Laura Cummings, White Birch Books, North Conway, NH
Description
---
NATIONAL BESTSELLER
"A juicy melodrama cast against the sultry, stylish imagery of North Africa in the fifties." —The New Yorker
The last person Alice Shipley expected to see since arriving in Tangier with her new husband was Lucy Mason. After the accident at Bennington, the two friends—once inseparable roommates—haven't spoken in over a year. But there Lucy was, trying to make things right and return to their old rhythms. Perhaps Alice should be happy. She has not adjusted to life in Morocco, too afraid to venture out into the bustling medinas and oppressive heat. Lucy—always fearless and independent—helps Alice emerge from her flat and explore the country. 
But soon a familiar feeling starts to overtake Alice—she feels controlled and stifled by Lucy at every turn. Then Alice's husband, John, goes missing, and Alice starts to question everything around her: her relationship with her enigmatic friend, her decision to ever come to Tangier, and her very own state of mind.
Tangerine is a sharp dagger of a book—a debut so tightly wound, so replete with exotic imagery and charm, so full of precise details and extraordinary craftsmanship, it will leave you absolutely breathless.
Optioned for film by George Clooney's Smokehouse Pictures, with Scarlett Johansson to star
About the Author
---
Christine Mangan has her PhD in English from University College Dublin, where her thesis focused on 18th-century Gothic literature, and an MFA in fiction writing from the University of Southern Maine.  Tangerine is her first novel.
Praise For…
---
"The lying, the cunning, and the duplicity is so very mannered that it's chilling. Rich in dread, the foreboding positively drips from every page."  — Washington Post
"A dark tale of twisted love." — NPR
"Promises to be one of the best debuts of the year. . . . Echoes of Gillian Flynn and Patricia Highsmith in this tightly wound, exotic story." — Entertainment Weekly
"A slow-burning suspense novel about betrayal in the sun-drenched setting of 1950s Tangier. . . . It's a page-turner." — AARP Magazine
"Unbelievably tense, incredibly smart. . . . Mangan full-speeds up to her shocking finale, twisting the plot with reveals you never see coming. . . . [Her] writing is so accomplished, so full of surprises and beauty, that you'd swear she was a seasoned pro." — San Francisco Chronicle
"If you liked The Talented Mr. Ripley, then you're going to go wild for this taut thriller. . . . Absolutely delicious." — Nylon Magazine
"Eerie and fun." — Jennifer Egan, New York
"The thriller that everyone will be talking about. . . . One of those sinuous, Hitchcockian tales that disorients in the best way. . . . Hypnotic." — Esquire
"A juicy melodrama cast against the sultry, stylish imagery of North Africa in the fifties. . . . [Tangerine is] endearing and even impressive in the force of its determination to conjure a life more exciting than most. . . . Just the ticket." — New Yorker
"[Mangan] knows all the notes to hit to create lush, sinister atmosphere and to prolong suspense. . . . A satisfying, juicy thriller." — New York Times Book Review
"A taut and heady suspense story." — St. Louis Post-Dispatch
"One book to add to your must-read list this spring." — Parade
"A searing, propulsive story about female friendship gone awry." — Bustle
"The reader's sympathy switches back and forth between Lucy and Alice as their Moroccan reunion moves inexorably toward another fatal crossroads. But caveat lector: Tangerine, like its namesake fruit, can be both bracing and bitter." — Wall Street Journal
"The amoral, manipulative presence of Patricia Highsmith's Tom Ripley hovers over Tangerine. . . . An assured and atmospheric debut." — The Guardian
"A sophisticated mystery with Hitchcockian flair. . . . unputdownable." — The Missourian
"Fans of The Talented Mr. Ripley will find much to love in this sultry thriller." — Harper's Bazaar
"It's thrilling to read a new voice that feels so fully formed and in command of her narrative." — Cynthia D'Aprix Sweeney, Newsweek
"A dark and truly haunting tale of friendship and obsession." — Buzzfeed
"This is a Hitchcockian thrill ride that's so evocative, it will make you swear you've been to Morocco." — Popsugar
"Add a dose of suspense to your reading list. . . . A renewed friendship, a mysterious disappearance, and a world turned thrillingly upside down." — Southern Living
"Maddening, gripping, enchanting—I'm at risk of running out of adjectives to describe just how wholly impressive this debut is. . . . Mangan has written a lush, vibrant, and unputdownable psychological suspense story that recalls the work of Patricia Highsmith in a voice all her own." — Crime by the Book
"As if Donna Tartt, Gillian Flynn, and Patricia Highsmith had collaborated on a screenplay to be filmed by Hitchcock—suspenseful and atmospheric." — Joyce Carol Oates, author of The Book of American Martyrs
"In her utterly transfixing debut, Christine Mangan deftly transports readers to Northern Africa at midcentury—the most glamorous possible milieu, and the ideal setting for a story of heated passion, in which friendship becomes obsession and, finally, a kind of madness." — Rumaan Alam, author of Rich and Pretty
"Both eerie and thrilling, the tangled knot that binds these two female characters will keep you frantically turning the pages. Tangerine dabbles in dark backstory and psychological doubt, leaving me feeling as though I've gone to Tangier, with Daphne du Maurier's literary heir as my guide." — Suzanne Rindell, author of The Other Typist and Three Martini Lunch
"Hypnotic. . . . [A] deadly, Hitchcockian pas de deux plays out under an unrelenting, Camus-like African sun. . . . Sucks the reader in almost instantly." — Booklist (starred review)
"Transportive. . . . Mangan's portrayal of Tangier is electric. This sharp novel reads like Single White Female rewritten as a collaboration between Paul Bowles and Mary McCarthy." — Publishers Weekly
"Readers captivated by the flavor of international romance and intrigue, as in Michael Ondaatje's The English Patient, will enjoy the distorted psychological twists and turns." — Library Journal
"Mangan's debut pays homage to The Talented Mr. Ripley and to the work of Daphne du Maurier and Shirley Jackson. A vivid setting and a devious, deadly plot." — Kirkus