You Again: A Novel (Hardcover)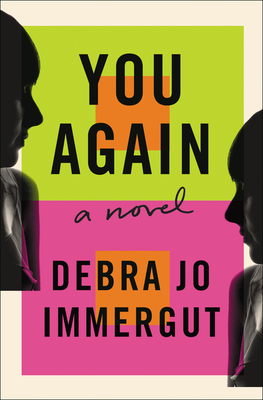 $27.99
This item is not currently available to order.
Staff Reviews
---
This fascinating novel centers around an artist who begins seeing glimpses of her younger self. Are these experiences real or imagined? Who are we? Who were we? An excellent book.
— Suzanna
Description
---
A New York Times Best Thriller of 2020 * Shortlisted for the Strand Magazine Best Mystery Novel Award * Finalist for the Gotham Book Prize 
From Edgar Award nominee Debra Jo Immergut, a taut, twisting work of suspense about a woman haunted by her younger self
Abigail Willard first spots her from the back of a New York cab: the spitting image of Abby herself at age twenty-two—right down to the silver platforms and raspberry coat she wore as a young artist with a taste for wildness. But the real Abby is now forty-six and married, with a corporate job and two kids. As the girl vanishes into a rainy night, Abby is left shaken. Was this merely a hallucinatory side effect of working-mom stress? A message of sorts, sent to remind her of passions and dreams tossed aside? Or something more explosive and life-altering?
As weeks go by, Abby continues to spot her double around her old New York haunts—and soon, despite her better instincts, Abby finds herself tailing her look-alike. She is dogged by a nagging suspicion that there is a deeper mystery to figure out, one rooted far in her past. All the while, Abby's life starts to slip from her control: her marriage hits major turbulence, her teenage son drifts into a radical movement that portends a dark coming era. When her elusive double presents her with a dangerous proposition, Abby must decide how much she values the life she's built, and how deeply she knows herself.
You Again is an audaciously constructed novel, an unboxing of memory, desire, and regret—and an electrifying portrait of a woman hurtling toward a key crossroads in her life, where a secret lies buried like an undetonated bomb. 
About the Author
---
Debra Jo Immergut is the author of the Edgar-nominated novel The Captives and the story collection Private Property. She has been awarded a MacDowell fellowship and a Michener fellowship. Her literary work has been published in American Short Fiction and Narrative. As a journalist, she has been a frequent contributor to the Wall Street Journal and the Boston Globe. She has an MFA from the Iowa Writers' Workshop.
Praise For…
---
"Stunning . . . feels eerily relevant, perfect for this time of deep uncertainty and rapidly shifting news. It is dreamlike and immersive, like falling into someone else's alternative reality." — New York Times Book Review, Editor's Choice
"An alluring mystery . . .  Immergut has constructed her tale as an ingenious maze. . . . Think of You Again as "A Portrait of the Artist as a Not-so-Young Woman," on a shelf that would include Claire Messud's The Woman Upstairs— but with the addition of a mystery as a compelling chaser." — Washington Post
"Inventive. . . You Again, combining psychological suspense and fantasy, is a family-life novel, an art-world chronicle and an examination of the mutability of reality." — Wall Street Journal
"You Again will have you rethinking everything." — Good Morning America ("A Novel to Read this Summer" selection)
"Immergut's novel pushes at the contours of identity and change, asking how we can recognize ourselves after so many years have passed." — The Millions
"[A] heart-pounding thriller." — Woman's World
"A mind-bendingly brilliant look at memory, reality, fierce ambition and the lives we could have led." — AARP Magazine
"Fast-paced . . . [YOU AGAIN] is at once a psychological mystery, an thriller and a meditation on time and memory." — Daily Hampshire Gazette
"At once a mind-bending puzzle and a profound meditation on love, fate, ambition, and regret." — Kirkus Reviews (starred review)
"Immergut delivers a furious page-turner." — Booklist
"So accomplished, so glorious—a complete original from page one. You may as well buy your second copy now." — Janet Fitch, author of The Revolution of Marina M. and Chimes of a Lost Cathedral 
"With mesmerizing deftness, You Again brilliantly reimagines a woman's search for her lost ambition as a psychological thriller. This book takes the questions of middle age—What happens to an artist's creative force when she becomes a mother with a day job? Can we recover lost time and neglected passion? Is idealism the purview of the young?—and turns them inside out. An extraordinary book." — Heather Abel, author of The Optimistic Decade 
Debra Jo Immergut brings her considerable literary talent to bear in this thrilling and beautifully-imagined exploration of a universally tantalizing notion—meeting your younger self! You Again is a swirling, propulsive novel of suspense and a deep dive into time, memory, art, family. Ambitious and enthralling. — James A. McLaughlin, author of Bearskin
"Debra Jo Immergut's You Again implicates the reader into a dark mystery that begins with suspicion and ends exactly where it must. Immergut writes this stunning portrait of a woman on the brink of collapse as only she can write it—which is to say, beautifully, intelligently, and full of compassion." — Brandon Hobson, National Book Award finalist and author of Where the Dead Sit Talking