Unspeakable Acts: True Tales of Crime, Murder, Deceit, and Obsession (Paperback)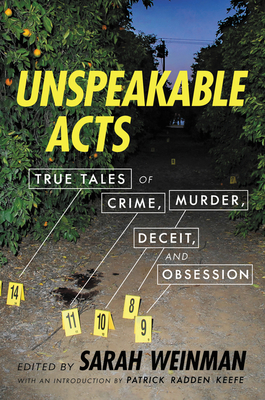 Staff Reviews
---
An excellent & well-rounded collection; I was up late night after night tearing through these stories.
— Suzanna
Description
---
An NPR Best Book of the Year
A New York Times New & Noteworthy Book
A brilliant anthology of modern true-crime writing that illustrates the appeal of this powerful and popular genre, edited and curated by Sarah Weinman, the award-winning author of The Real Lolita

The appeal of true-crime stories has never been higher. With podcasts like My Favorite Murder and In the Dark, bestsellers like I'll Be Gone in the Dark and Furious Hours, and TV hits like American Crime Story and Wild Wild Country, the cultural appetite for stories of real people doing terrible things is insatiable.
Acclaimed author ofThe Real Lolita and editor of Women Crime Writers: Eight Suspense Novels of the 1940s & 50s (Library of America) and Troubled Daughters, Twisted Wives (Penguin), Sarah Weinman brings together an exemplary collection of recent true crime tales. She culls together some of the most refreshing and exciting contemporary journalists and chroniclers of crime working today.  Michelle Dean's "Dee Dee Wanted Her Daughter To Be Sick" went viral when it first published and is the basis for the TV showThe Act and Pamela Colloff's "The Reckoning," is the gold standard for forensic journalism.  There are 13 pieces in all and as a collection, they showcase writing about true crime across the broadest possible spectrum, while also reflecting what makes crime stories so transfixing and irresistible to the modern reader.
About the Author
---
Sarah Weinman is the author of The Real Lolita, and editor of Women Crime Writers: Eight Suspense Novels of the 1940s & 50s (Library of America) and Troubled Daughters, Twisted Wives (Penguin). She covers book publishing for Publishers Marketplace, and has written for the New York Times, the New Republic, the Guardian, and Buzzfeed, among other outlets. She lives in Brooklyn, New York.
Praise For…
---
"Irresistible."
— People, "Best New Books of the Week"

"This spine-tingling true crime anthology....[looks] beyond killers and victims and at systemic and institutionalized depravity."
— Shelf Awareness, starred review


"Superb . . . one of the best true crime books of the year."
— NPR.org

"An excellent anthology . . . Weinman has done more than create entertainment . . . she challenges the reader to use true crime as a lens to explore the world around us."
— BookPage

"Moves the needle closer to a version of the genre where crime is systemic abuse, baked into the work of institutions designed to protect us."
— Jezebel

"Thoughtful and wide-ranging. . . . The superior quality of these essays begs for future volumes." 
— Publishers Weekly (starred review)

"With nuance and sensitivity, Weinman curates essays that consider the explosion of interest in true crime, stories from the perspectives of victims, and tales that present new information about notorious killers. . . . This enthralling volume insists that there can and should be humanity within true crime."  
— Library Journal (starred review)

"Essential reading for all true crime fans."
— Booklist
We appreciate your continued support!
If you would like to make a donation to help us through CLICK HERE.