Boulangerie at Home: Bread, Brioche, and Other Baked Delicacies (Hardcover)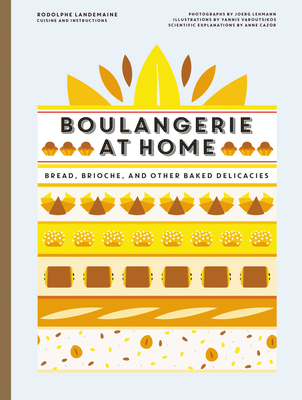 Description
---
A French pastry chef providers the tools and instruction you need to master the art of classic French bread and dough-based baked goods with this stunning cookbook featuring 100 recipes, infographics, 500 handy step-by-step photos, and an illustrated glossary.

In this gorgeous bread bible, chef Rodolphe Landemaine simplifies the art of French baking as he teaches home cooks how to create a range of scrumptious French breads, including baguettes, brioche Parisienne, croissants, chestnut bread, petits gateaux, financers, and chouquettes. He provides clear, step-by-step instructions beginning with fundamental ingredients (flour, yeast, sourdough starter), recipes for basic doughs (bread dough, brioche dough, croissant dough), and fillings (pastry cream, almond cream, compote). He then teaches you the techniques such as kneading, fermentation, and shaping that are the heart of French baking.
Landemaine follows these hands-on instructions with sixty recipes. He explains how preparation adds texture and flavor to each recipe, breaks down the techniques involved in its creation, and includes helpful photos for every step, as well as one large full-page photo of the finished bread. Boulangerie at Home also contains a helpful illustrated glossary that provides detailed directions to help you perfect your baking skills, from stocking key utensils to filling and decorating pastries to washes and methods for working with dough. The directions are accompanied by helpful how-to photos.
A sophisticated, comprehensive, and accessible visual cookbook, Boulangerie at Home is your essential guide to making and enjoying mouthwatering French baked goods in your own kitchen.
About the Author
---
Rodolphe Landemaine opened his bakery, Maison Landemaine, in 2004. Today, there are 10 Maison Landemaines around Paris, and he has opened three bakery schools in Japan to teach his techniques to the masses. Creator of quality bread daily, he passionately shares his recipes and secrets to make a little bit of the baker's world accessible.