A Wolf Called Wander (Hardcover)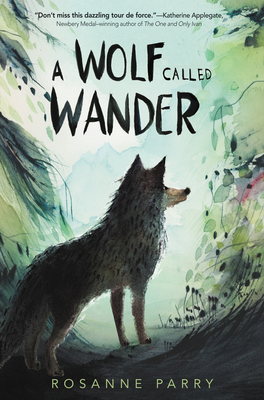 Staff Reviews
---
High in the mountains live a pack of wild wolves. Among them is a young cub named Swift. He is separated from his family and makes a miraculous journey of 1000 miles from his home. Based on the amazing true story of a wolf named Journey, this is great for fans of PAX.
— Carissa
Summer 2019 Kids Indie Next List
---
"Kids who loved The Call of the Wild will enjoy this novel. This middle reader is entirely from the point of view of a young wolf who is trying to find his way to a new home after his family is defeated by a rival wolf pack. A great book that will give kids insight into what it may be like to be a wild animal surviving on the edges of human civilization. Animal lovers, adventurers, and kids involved with nature will want to read this one."
— Amy McClelland, Bright Side Bookshop, Flagstaff, AZ
Description
---
A New York Times bestseller
"Don't miss this dazzling tour de force."—Katherine Applegate, Newbery Medal winning author of The One and Only Ivan
This gripping novel about survival and family is based on the real story of one wolf's incredible journey to find a safe place to call home. Illustrated throughout, this irresistible tale by award-winning author Rosanne Parry is for fans of Sara Pennypacker's Pax and Katherine Applegate's The One and Only Ivan.
Swift, a young wolf cub, lives with his pack in the mountains learning to hunt, competing with his brothers and sisters for hierarchy, and watching over a new litter of cubs. Then a rival pack attacks, and Swift and his family scatter.
Alone and scared, Swift must flee and find a new home. His journey takes him a remarkable one thousand miles across the Pacific Northwest. The trip is full of peril, and Swift encounters forest fires, hunters, highways, and hunger before he finds his new home.
Inspired by the extraordinary true story of a wolf named OR-7 (or Journey), this irresistible tale of survival invites readers to experience and imagine what it would be like to be one of the most misunderstood animals on earth. This gripping and appealing novel about family, courage, loyalty, and the natural world is for fans of Fred Gipson's Old Yeller and Katherine Applegate's Endling.
Includes black-and-white illustrations throughout and a map as well as information about the real wolf who inspired the novel.
About the Author
---
Rosanne Parry is the author of the novels Heart of a Shepherd and Last of the Name, among other acclaimed titles. She lives with her family in an old farmhouse in Portland, Oregon, and writes in a tree house in her backyard. www.rosanneparry.com
Praise For…
---
"Riveting and lyrical, A WOLF CALLED WANDER is a vibrantly imagined celebration of the natural world. Don't miss this dazzling tour de force."
— —Katherine Applegate, Newbery Medal-winning author of The One and Only Ivan

"Inspired by the story of OR-7, a real wolf naturalists tracked in the wild, Parry perfectly conveys her character's curious, alert, and social nature.. . .a page-turning narrative. . . .deserving of a place alongside Sheila Burnford's The Incredible Journey, Jack London's White Fang, and other classic animal adventure novels."

— School Library Journal (starred review)

"Rife with details of the myriad scents, sounds, tastes, touches, and sights in Swift/Wander's primal existence, the immediacy of his intimate, first-person, present-tense narration proves deeply moving. . . .A sympathetic, compelling introduction to wolves from the perspective of one wolf and his memorable journey."
— Kirkus Reviews

"Wander's first-person narration...lends a unique perspective and immediacy to the story. . .Armiño's realistic black-and-white illustrations fill in gaps, making this memorable adventure a beautiful one as well."
— ALA Booklist

"Parry doesn't pull any punches in her portrayal of the brutal reality of the natural world. . .Readers who liked the Hunters series for the gritty authenticity of its natural world will feel right at home."
— Bulletin of the Center for Children's Books

"Parry offers a wolf's-eye view of the Pacific Northwest's forests, mountains, and prairies in this harrowing survival tale based on the story of OR-7, a wolf electronically tracked by scientists. . . .An action-packed novel perfect for reluctant readers as well as animal lovers."
— Publishers Weekly

"Inspired by a true story, Rosanne Parry evokes the Pacific Northwest with lilting, sensory-driven ambient details. . . . Parry's choice to have Swift narrate his own perilous journey brings an on-the-ground intimacy to the story. . . . Parry has written about being far from home before . . . it's a terrain she captures expertly."
— The New York Times Book Review
We appreciate your continued support!
If you would like to make a donation to help us through CLICK HERE.