Dear America \ Querida América (Spanish edition) (Paperback)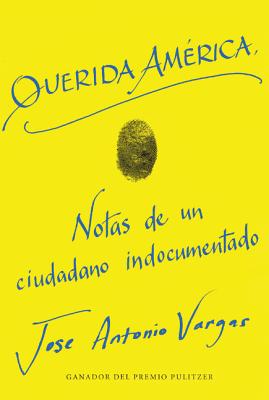 $21.99
This item is not currently available to order.
Description
---
"Fascinante y valiente. Este libro de memorias debe ser lectura obligatoria para todos". —Michelle Alexander, autora de The New Jim Crow, bestseller de The New York Times.
"Lloré leyendo este libro, comprendí plenamente lo que mis padres tuvieron que aguantar". —Amy Tan, autora de Club de la Buena Estrella, bestseller de The New York Times
"Este libro no puede ser más relevante y necesario." —Dave Eggers, autor de El Círculo
Periodista Jose Antonio Vargas, el ganador del Premio Pulitzer conocido como "el inmigrante indocumentado más famoso de los Estados Unidos," aborda una de las cuestiones que definen nuestro tiempo en esto libro explosiva y profundamente personal llamada a las armas.
Natural de Filipinas, Vargas fue llevado ilegalmente a los Estados Unidos cuando tenía 12 años. Durante más de dos décadas, vivió oculto de todos, logrando escribir para algunos de las publicaciones más prestigiosas de EE. UU., como The Washington Post y The New Yorker. Pero en 2011, Vargas reveló públicamente su estatus de indocumentado, arriesgando su carrera y seguridad personal. Desde entonces, Vargas ha cuestionado la que significa de ser estadounidense y dedica su vida a dar voz a los inmigrantes y defender sus derechos, no solamente en EE. UU sino también en el mundo entero. Querida América: Notas de un ciudadano indocumentado no es un libro sobre la política de inmigración. Es una defensa íntima y apasionada de ciudadanía y el sentido de pertenencia.
"Después de 25 años viviendo ilegalmente en un país que no me consideró uno de los suyos, este libro es lo más cercano a libertad que tengo."
—Jose Antonio Vargas, Querida América
About the Author
---
Jose Antonio Vargas is a Pulitzer Prize-winning journalist, Emmy-nominated filmmaker, and Tony-nominated producer. His work has appeared internationally in Time magazine, as well as in the San Francisco Chronicle, The New Yorker, and the Washington Post. In 2014, he received the Freedom to Write Award from PEN Center USA. A leading voice for the human rights of immigrants, he founded the non-profit media and culture organization Define American, named one of the World's Most Innovative Companies by Fast Company. An elementary school named after him will open in his hometown of Mountain View, California in 2019.