The Order \ La orden (Spanish edition) (Paperback)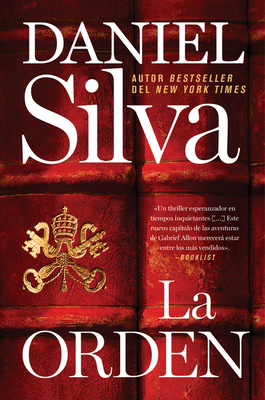 $18.99

Available in our Warehouse: Usually Ships in 3-8 Days
Description
---
Gabriel Allon, uno de los mejores espías del mundo de la ficción, regresa en esta emocionante novela de amistad y fe
en un mundo peligroso y lleno de incertidumbres.
Las vacaciones en Venecia de Gabriel Allon se ven interrumpidas por la repentina muerte del papa Pablo VII. Su leal secretario, el arzobispo Luigi Donati, convoca a Gabriel a Roma para confiarle sus sospechas de que el Santo Padre no ha sufrido un infarto, sino que ha sido asesinado. ¿Sus razones? La desaparición del guardia de las estancias pontificias, y una carta del papa… dirigida a Gabriel.
«Mientras investigaba en los archivos secretos del Vaticano, encontré un libro más que sorprendente…». Un Testamento suprimido que cuestiona el Nuevo Testamento.
La Orden de Santa Elena, una oscura sociedad católica, está dispuesta a todo para evitar que Gabriel se haga con él al tiempo que conspiran para hacerse con el trono de San Pedro. Gabriel emprende una desesperada investigación para desenmascarar la Orden y poner fin a dos mil años de odio mortal.
La Orden cautivará a los lectores con su ritmo y elegancia, dejándolos sin respiración con su inesperado final. La última prueba de que Daniel Silva es el mejor escritor de suspense internacional de su generación.
DANIEL SILVA es el autor bestseller del New York Times de El espía inglés, La viuda negra, Casa de los espías, y La otra mujer. Sus libros, que han sido publicados en más de treinta países, se encuentran entre los más vendidos de todo el mundo. Daniel Silva es miembro del Holocaust Memorial Council de los Estados Unidos y vive en Florida con su esposa, Jamie Gangel, y sus dos hijos, Lily y Nicholas.
About the Author
---
Daniel Silva is the award-winning, #1 New York Times bestselling author of The Unlikely Spy, The Mark of the Assassin, The Marching Season, The Kill Artist, The English Assassin, The Confessor, A Death in Vienna, Prince of Fire, The Messenger, The Secret Servant, Moscow Rules, The Defector, The Rembrandt Affair, Portrait of a Spy, The Fallen Angel, The English Girl, The Heist, The English Spy, The Black Widow, House of Spies, The Other Woman, The New Girl, The Order, and The Collector. He is best known for his long-running thriller series starring spy and art restorer Gabriel Allon. Silva's books are critically acclaimed bestsellers around the world and have been translated into more than thirty languages. He resides in Florida with his wife, television journalist Jamie Gangel, and their twins, Lily and Nicholas.