We Should Catch Up Sometime! (And Other Lies): How to Let Go of Being Everything to Everyone and Start Living Life on Your Own Terms (Paperback)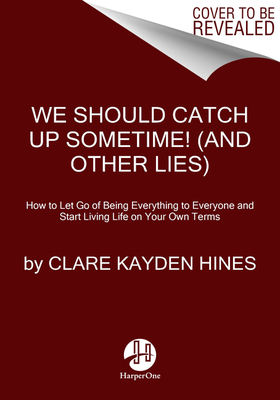 $21.99

Not Yet Published - Available for Pre-Order (Release date & price subject to change.)
Description
---
The adventures of illustrated Instagram star Kayden Hines as she hilariously tries to navigate the victories and pitfalls of adulthood, ultimately finding that it's up to her to create the life she wants.
From illustrated Instagram sensation @KaydenHines comes a real, honest look at navigating the most mundane, frustrating, awkward situations of everyday adult life with humor and cheeky honesty.  
Combining dozens of witty illustrations—some fan favorites and most created especially for this book—with pithy insights, We Should Catch Up Sometime! (And Other Lies) chronicles Kayden's exploits, and examines and demystifies a list of familiar "shoulds" that rule her—and nearly every modern woman's—life, including:
We should go to the right schools and work at the top companies
We should be in a mature, loving relationship, get married, and have 2.5 children
We should be reachable on our devices, but not addicted to them
We should curate a social media persona, but still be authentic
We should exercise more, not eat too many carbs, and skip the extra cheese (even though the cheese is the best part!)
From careers to relationships and friendships, from body image, anxiety, and self-care to technology and social media, We Should Catch Up Sometime! (And Other Lies) shows you that being an adult isn't scary—it's anything you want it to be. You just need to break free of the "should" and ultimately DO YOU: define who you are, believe in yourself, and create the life you want.
About the Author
---
Clare Hines is a writer and illustrator who worked at Goldman Sachs, Discovery Communications, and Apple until, unhappy and burned out, she left to create her own content. Clare shares her witty and insightful illustrations on her Instagram account, @kaydenhines, and her work has been featured in The New Yorker, Bored Panda, Huffington Post, DesignTaxi, and Cheezburger. She lives in Los Angeles, California.