The Wreckage of My Presence: Essays (Hardcover)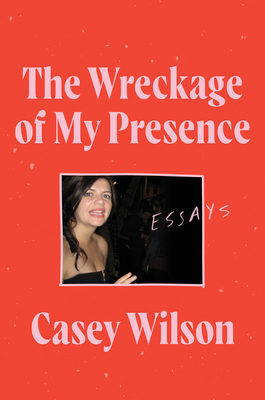 Description
---
Laugh-out-loud, deeply insightful, and emotion-filled essays from multitalented actress, comedian, podcaster, and writer Casey Wilson.

Casey Wilson has a lot on her mind and she isn't afraid to share. In this dazzling collection, each essay skillfully constructed and brimming with emotion, she shares her thoughts on the joys and vagaries of modern-day womanhood and motherhood, introduces the not-quite-typical family that made her who she is, and persuasively argues that lowbrow pop culture is the perfect lens through which to examine human nature.
Whether she's extolling the virtues of eating in bed, processing the humiliation over her father's late in life perm, mourning her mother's passing, or revealing her patented method for keeping the mystery alive in a marriage, Casey is witty, candid, and full of poignant and funny surprises. Humorous dives into her obsessions and areas of personal expertise—self-help, nice guys, cool girls (not her) and how to receive visitors in the bath—are matched by touching meditations on female friendship, anger, grief, motherhood, and identity. 
Reading The Wreckage of My Presence is like spending time with a close friend—a deeply passionate, full-tilt, joyous, excessive, compulsive, shameless, hungry-for-it-all, loyal, cheerleading friend. A friend who is ready for any big feelings that come her way—and isn't afraid to embrace them.
About the Author
---
Casey Wilson is an actress, writer, director and podcaster. Her TV acting credits include Happy Endings, Saturday Night Live, Easy Mark, Marry Me, Black Monday, Mrs. Fletcher, and Curb Your Enthusiasm. Her film credits include Gone Girl, Julie and Julia, and Always be My Maybe. Casey co-wrote and co-starred in the movies Bride Wars and Ass Backwards with her longtime collaborator June Diane Raphael. Alongside Danielle Schneider, she co-hosts the hit podcast Bitch Sesh. Her directorial debut, Daddio, premiered at SXSW and TIFF. Casey lives with her husband and two young  sons in Los Angeles. 
Praise For…
---
"The Wreckage of My Presence will destroy you. Laughter through the tears. Love Casey Wilson!"
— Amy Sedaris

"I had the thrilling experience of laughing out loud throughout reading THE WRECKAGE OF MY PRESENCE!  Casey is as hilarious on the page as she is in person, and her stories are often more bizarre than anything I've seen on the Housewives, with tons of heart."
— Andy Cohen

"Casey Wilson is laugh out loud funny, vulnerable, and honest. Reading this book made me feel like I'm hanging out with a best friend. What a pleasure and privilege to spend time with such an absolute treasure." 
— Phoebe Robinson, bestselling author of You Can't Touch My Hair 

"Reading Casey Wilson's memoir is a lot like hanging out with Casey herself: you never want the fun to end. Laugh-out-loud funny, joyously raw and real, this book is like the great boozy night out we all need." 
— Jessi Klein, New York Times bestselling author of You'll Grow Out of It

"Wilson turns the trappings of fame into rich fodder for highlighting the absurdities of her Hollywood life. Her humorous writing flows in a rapid-fire, conversational tone, but underneath the laughs, the constant, human, and very relatable undercurrent becomes more apparent. . . . will appeal to fans of other funny female essayists like Chelsea Handler and Mindy Kaling, whether or not they are already devotees of Wilson's work."
— Booklist
We appreciate your continued support!
If you would like to make a donation to help us through CLICK HERE.