Wayside School Beneath the Cloud of Doom (Hardcover)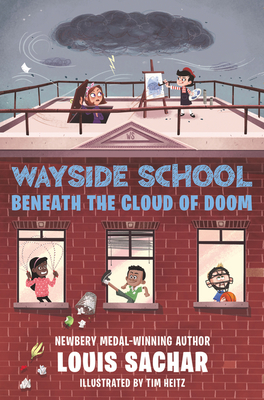 Staff Reviews
---
Reading this transported me directly back to the 5th grade! Louis Sachar's Wayside School is as weird as I remember it, and I'm so glad a new generation of readers will get to read these books!
— Suzanna
Spring 2020 Kids Indie Next List
---
"In a return to the surreal Wayside School, this book stays perfectly in touch with the earlier works in the series. The characters remain wonderfully quirky, and the everyday oddities of the school are just as riveting as before. Sure to appeal to school-aged children who can recognize the weird in their schools."
— Gwendolyn Baltera, Buttonwood Books and Toys, Cohasset, MA
Description
---
Wayside School is back in session in this brand-new, fourth installment in the perennially beloved and bestselling series by Newbery Medal-winning author Louis Sachar. 
Your favorite students and teachers are all here. That includes Sharie, who loves her striped-and-spotted umbrella more than anything; Kathy, who has a bad case of oppositosis; Jason, who has to read the longest book in the world; and the rest of Mrs. Jewls's class on the thirtieth floor, who are busily collecting toenail clippings.
Everyone is scrambling to prepare for the all-important Ultimate Test, but meanwhile, there is a mysterious Cloud of Doom looming above them…
More than fifteen million readers have laughed at the clever and hilarious stories of Wayside School. So what are you waiting for? Come visit Wayside School! Kids 7 to 13 will zoom through these chapter books—laughing their way through the fast, funny, silly but relatable stories.
This funny chapter book series includes:
Sideways Stories from Wayside School
Wayside School Is Falling Down
Wayside School Gets a Little Stranger
And now also Wayside School Beneath the Cloud of Doom, the brand-new, fourth installment in the series, and the first in twenty-five years! 
About the Author
---
When
Louis Sachar
was going to school, his teachers always pronounced his name wrong. Now that he has become a popular author of children's books, teachers all over the country are pronouncing his name wrong. It should be pronounced "Sacker," like someone who tackles quarterbacks or someone who stuffs potatoes into sacks.
Mr. Sachar's first book, Sideways Stories from Wayside School, was accepted for publication during his first year of law school. After receiving his law degree, he spent six years asking himself whether he wanted to be an author or a lawyer before deciding to write for children full-time. His books include Sideways Stories from Wayside School, Wayside School Is Falling Down, Wayside School Gets a Little Stranger, and Holes, winner of a Newbery Medal and National Book Award.
Praise For…
---
"Rejoice! 25 years later, Wayside School is still in session, and the children in Mrs. Jewls' 30th-floor classroom haven't changed a bit." — Kirkus Reviews (starred review)
"Sachar's return to Wayside continues the same side-splitting formula, but a little added polish, overall cohesion, and character development may make this one the best of the bunch. An unbeatable read-aloud option for early middle-grade audiences." — Booklist
"Sachar's snappy comedic stride doesn't miss a beat in his series' fourth installment—the first since 1995's Wayside School Gets a Little Stranger—as the curiosities of Mrs. Jewls's 30th-floor classroom multiply more quickly than ever... Into the regaling levity, Sachar characteristically slips worthy nuggets about the rewards of kindness and friendship." — Publishers Weekly (starred review)
"After 40 years, Wayside School is still a delight. It still tickles the funny bone with the most ridiculous scenarios." — School Library Journal
"With its gonzo humor, nonsensical non sequiturs, and mysterious mustachioed grownups, Wayside School fans should eat this up (spaghetti and feetballs, anyone?)." — Horn Book Magazine
"Even with more of a traditional through-line, this book maintains the chaotic sense of randomness that was so appealing in earlier volumes. And there are still plenty of puns ("spaghetti and feetballs" is served in the cafeteria), pileups (that skateboard left on the stairs will come into play) and jabs at educators (like the implication that anytime a teacher asks a student to write a word on the board it's because the teacher doesn't know how to spell it), with that touch of Dada-esque lunacy that "Wayside" veterans have come to expect." — New York Times Book Review