Anxious People \ Gente ansiosa (Spanish edition) (Paperback)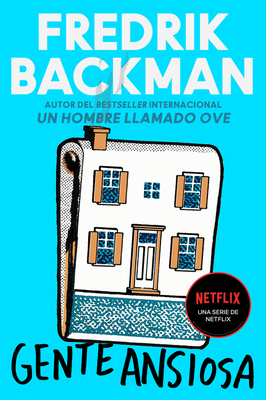 $17.99

Available in our Warehouse: Usually Ships in 3-8 Days
Description
---
¡Ahora una serie de Netflix que se emitirá el 29 de diciembre de 2021!
Un robo a un banco con toma de rehenes. Una escalera llena de policías a punto de asaltar un apartamento. Llegar a esto fue sorprendentemente fácil. Sólo hizo falta una mala idea. Una idea mala de verdad.
Visitar un apartamento en venta no es una situación de vida o muerte. A menos que sea la víspera de Nochevieja, vivas en una pequeña ciudad en Suecia y alguien haya tenido la peor idea de su vida y decidido atracar un banco que no maneja efectivo. Entonces, sí lo es. Porque, cuando alguien es así de idiota, es inevitable que no sepa cómo huir y termine en un apartamento en venta tomando rehenes sin querer.
Pero puedes confiar en la policía. A menos que los dos agentes encargados del caso no se entiendan entre ellos y tengan cero experiencia con tomas de rehenes. Entonces, no.
Aunque todo irá bien si los rehenes mantienen la calma. A menos que sean los peores rehenes de la historia: una millonaria suicida, una anciana encantadora, un matrimonio de jubilados amantes de IKEA, dos recién casadas que nunca se ponen de acuerdo, una agente inmobiliaria excesivamente entusiasta y un hombre disfrazado de conejo. Entonces, no, porque, cuando todos son idiotas, es imposible mantener la calma. Sin embargo, policías y rehenes están a punto de descubrir que quizá ser idiota no está tan mal y que, a veces, la ansiedad puede ser la solución.
En Gente ansiosa se dan cita todos los elementos del universo de Fredrik Backman, habitado por personajes tan imperfectos como enternecedores, y teñido de un sentido del humor inimitable, mezcla de ironía y compasión, que ha cautivado a millones de lectores de todo el mundo.
FREDRIK BACKMAN es autor de nueve libros, entre ellos el bestseller internacional Un hombre llamado Ove, cuya versión cinematográfica fue candidata a dos Óscar. Sus obras se han traducido a cuarenta y seis idiomas. Gente ansiosa se convertirá en una serie de Netflix en 2022. Backman vive en Estocolmo con su esposa y sus dos hijos.
About the Author
---
Fredrik Backman, a blogger and columnist. He is the New York Times bestselling author of A Man Called Ove and My Grandmother Asked Me To Tell You She's Sorry. Both were number one bestsellers in his native Sweden and around the world, and are being published in more than thirty five territories. He lives in Stockholm with his wife and two children.
Praise For…
---
"Backman again captures the messy essence of being human...It's clever and affecting, as likely to make you laugh out loud as it is to make you cry."
— Washington Post
"Backman is a master of writing delightful, insightful, soulful, character-driven narratives...[He] writes so humorously and poignantly about life, marriage, parenthood, love and death, prepare to be taken hostage by a stand-up philosopher/novelist who reminds us we are all 'idiots' because being human is 'idiotically difficult.'" — USA Today
"[A] witty, lighthearted romp...Backman charms." — Publishers Weekly