The Supervillain's Guide to Being a Fat Kid (Hardcover)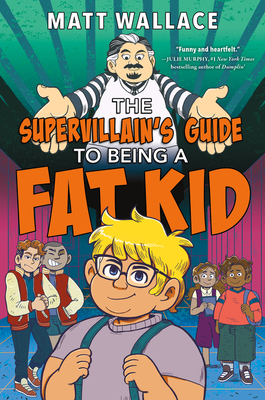 $16.99

Available in our Warehouse: Usually Ships in 3-8 Days
Staff Reviews
---
This is an excellent book that really gets to the heart of being an outsider as a kid, and developing and following your own moral compass. Max has to decide who he wants to be, and who he really admires. He hates superheroes, and turns to a supervillain for help. But is life really as simple as heroes vs villains? And how far will he go to get what he wants?
— Frederick
Description
---
Matt Wallace, author of Bump, presents a personal, humorous, and body-positive middle grade standalone about a fat kid who wants to stop his bullies . . . and enlists the help of the world's most infamous supervillain. Perfect for fans of Holly Goldberg Sloan, Julie Murphy, and John David Anderson!
Max's first year of middle school hasn't been easy. Eighth-grade hotshot Johnny Pro torments Max constantly, for no other reason than Max is fat and an easy target. Max wishes he could fight back, but he doesn't want to hurt Johnny . . . just make him feel the way Max feels.
In desperation, Max writes to the only person he thinks will understand: imprisoned supervillain Master Plan, a "gentleman of size." To his surprise, Master Plan wants to help! He suggests a way for Max to get even with Johnny Pro, and change how the other kids at school see them both.
And it works! When Master Plan's help pays off for Max in ways he couldn't have imagined, he starts gaining confidence—enough to finally talk to Marina, the girl he likes in class who shares his passion for baking. With Master Plan in his corner, anything seems possible . . . but is there a price to pay for the supervillain's help?
* A Junior Library Guild selection *
About the Author
---
Matt Wallace is the Hugo Award–winning author of Rencor: Life in Grudge City, the Sin du Jour series, and Savage Legion. He's also penned over one hundred short stories in addition to writing for film and television. In his youth he traveled the world as a professional wrestler and unarmed combat and self-defense instructor before retiring to write full-time. He lives in Los Angeles with his wife, Nikki. You can visit him at www.matt-wallace.com.
Praise For…
---
"If self-confidence, friendship, and the never ending question of 'who are the good guys' were ingredients, then this book would be an amazing cake. This book also features an amazing cake."  — Mur Lafferty, author of Solo: A Star Wars Story and Minecraft: The Lost Journals
"A funny and heartfelt underdog tale that I couldn't put down!" — Julie Murphy, #1 New York Times bestselling author of Dumplin'
"I wish I had this book when I was a kid, but I'm glad kids have it now. Smart, funny, and sweet." — Chuck Wendig, New York Times bestselling author of Dust & Grim and Star Wars: Aftermath
"A hilarious, playful, and refreshingly relatable take on the superhero genre that teaches the non-caped among us how to discover the hero hidden inside." — John David Anderson, acclaimed author of Posted and Ms. Bixby's Last Day
"Matt Wallace has created a frank, fresh, funny, and FAT take on what it means to stand up for yourself and claim your own power. It is truly original and deeply needed and I can't wait for every kid to read it." — Angie Manfredi, editor of The (Other) F Word: A Celebration of the Fat and Fierce 
"An exciting romp full of good advice and featuring a fun protagonist." — Kirkus Reviews
"Confronting the assumption that physical appearance correlates to morality or worth and reinforcing the idea that individual choices and actions show a person's true self, Wallace writes a triumphant arc of self-acceptance that extends to developing personal ethics and boundaries." — Publishers Weekly
Praise for Bump: "My favorite books have two things: A world I've never seen before and a great character to experience it with. Bump delivers both in a heartfelt, powerful way. I loved stepping into the world of small-time professional wrestling with M.J. I winced every time she took a hit inside the ring and out, and I cheered every time she got up. What a great middle-grade debut. I truly cannot wait to see what Matt Wallace does next."  — Greg van Eekhout, author of Voyage of the Dogs and Cog
"I love kids with big dreams, and MJ is a heroine to root for. Bump introduces readers to the world of professional wrestling while also telling a story about grief, friends that become family, and finding your voice. An entertaining and heartwarming read!" — Janae Marks, author of From the Desk of Zoe Washington 
"Matt Wallace makes every pro-wrestling fan's dream come true in Bump. Not only does he know his way around a wrestling ring, but he knows how to tell a story. Middle-school gymnast turned wrestler MJ isn't just trying to find herself, but the courage to be herself, in a world where cliques, cruelty, unfairness, and grief beat you down. But you don't stay down: Bump teaches you that, in both life and Lucha, there's always a surprise move that can save you from defeat and pin your opponent—and your fears—down for the three-count." — Carlos Hernandez, Pura Belpré Award-winning author of the Sal and Gabi series
"This book did a pile drive on my heart. I was so quickly captivated by MJ as she navigated grief and excitement, fear and joy. Reading Bump is having ringside seats to a touching, hilarious story that the world so desperately needs right now." — Mark Oshiro, author of Anger Is a Gift and Each of Us a Desert
"Adult fantasy writer Wallace draws on his own wrestling background to make MJ's every physically punishing step forward a visceral experience for sports-story enthusiasts, and her steady movement toward independence and the acceptance of her father's death will gratify middle grades domestic drama readers." — Bulletin of the Center for Children's Books
"The characters and events are rendered with all the beautifully unambiguous melodrama of a wrestling angle: loathsome bad guys, dramatic promos, and undeniably exciting action. Young fans will cherish gaining a deeper understanding of "sports entertainment"—and of the Mexican-wrestling tradition of lucha libre—and newcomers, too, will find in MJ a baby face worth cheering for." — Booklist