Raceless: In Search of Family, Identity, and the Truth About Where I Belong (Paperback)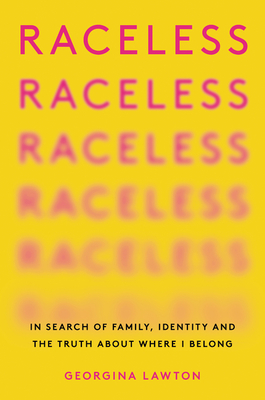 Staff Reviews
---
Georgina Lawton is a woman of color who was raised by her white family in suburban England without any knowledge of why she wasn't white like them (in fact, they maintained she WAS white)--or why this meant her experience of the world was and is markedly different from theirs. Raceless is an emotionally open and thoughtful memoir that considers through personal experience, through literary exploration, and through compiled research the way in which race is constructed in our families and in our world--and the way in which family secrets can erode one's sense of self identity. Alongside the tale of her own journey, Lawton also has composed a loving, complex memorial to her late father, a man whose love and choices she must reckon with after his passing.
— Anna
Description
---
A Bustle Most Anticipated Debut of the Year
"Freshly fascinating. [Lawton] is a particularly astute observer of the psychological dislocation caused by growing up mixed race... and she writes beautifully about questions of identity and belonging, so central to each of us in finding our particular place in the world." -New York Times Book Review
From The Guardian's Georgina Lawton, a moving examination of how racial identity is constructed—through the author's own journey grappling with secrets and stereotypes, having been raised by white parents with no explanation as to why she looked black.
Raised in sleepy English suburbia, Georgina Lawton was no stranger to homogeneity. Her parents were white; her friends were white; there was no reason for her to think she was any different. But over time her brown skin and dark, kinky hair frequently made her a target of prejudice. In Georgina's insistently color-blind household, with no acknowledgement of her difference or access to black culture, she lacked the coordinates to make sense of who she was.
It was only after her father's death that Georgina began to unravel the truth about her parentage—and the racial identity that she had been denied. She fled from England and the turmoil of her home-life to live in black communities around the globe—the US, the UK, Nicaragua, Cuba, the Dominican Republic, Vietnam, and Morocco—and to explore her identity and what it meant to live in and navigate the world as a black woman. She spoke with psychologists, sociologists, experts in genetic testing, and other individuals whose experiences of racial identity have been fraught or questioned in the hopes of understanding how, exactly, we identify ourselves.
Raceless is an exploration of a fundamental question: what constitutes our sense of self? Drawing on her personal experiences and the stories of others, Lawton grapples with difficult questions about love, shame, grief, and prejudice, and reveals the nuanced and emotional journey of forming one's identity.

About the Author
---
Georgina Lawton is a journalist, speaker, writer, and host of The Secrets in Us podcast. Previously a columnist for The Guardian, she has also written for VICE, Marie Claire, Refinery29, Bustle, The Times (London), Stylist, Time Out London, and other outlets, where she writes about identity, travel, and culture. She lives in London.
Praise For…
---
"Lawton's discussion of racial passing, transracial adoption, mixed-race identity and the health implications of being misidentified are freshly fascinating. She is a particularly astute observer of the psychological dislocation caused by growing up mixed race in a white family who never acknowledged her racial identity, and she writes beautifully about questions of identity and belonging, so central to each of us in finding our particular place in the world."
— New York Times Book Review

"Eloquent.... Lawton writes about her journey with passion, erudition and more than a touch of sass. Most of all, she writes with searing honesty—about herself, her family and our society… Beautifully and movingly written, Raceless is an important book about the cost of deception and the value of identity." 
— BookPage, starred review

"Incredibly moving.... Raceless is a gripping and poignant examination of love, family, race, identity, and grief framed by this era of racial awakening we find ourselves in... Lawton writes a love-letter to imperfect parents, a ballad to supportive friends and she paints for us so vividly the vitality of knowing who you really are and where you want to fit in in the world"
— Clever-ish

"A candid, engrossing and important exploration into identity, family, race and how we understand the formation and evolution of our selves throughout our lives." 
— Ms. Magazine

"Journalist Lawton explores questions of belonging, racial identity, and family secrets in her shattering debut…. revelatory and profound, this memoir sings"
— Publishers Weekly

"Raceless is sure to resonate with those who have had to negotiate their existence in the 'in-between' or who possess identities that defy old-fashioned, traditional norms… A timely, engaging exploration of family and racial belonging featuring many valuable lessons."
— Kirkus

"A Black woman raised in a white family, Lawton embarks on a journey to discover her identity, and in doing so confronts centuries-old systems of global white supremacy and oppression… A frank examination of one woman's search for identity that will satisfy readers of personal narratives and Black history alike."
— Library Journal

"Lawton's examination of identity and family is a compelling account that will resonate with many readers."
— Booklist
We appreciate your continued support!
If you would like to make a donation to help us through CLICK HERE.