The Divines: A Novel (Hardcover)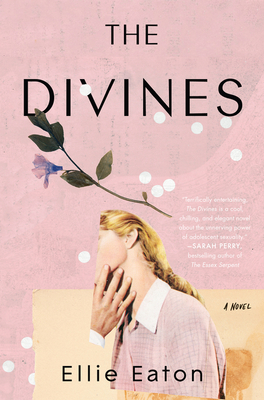 Staff Reviews
---
-A sophisticated new fiction in the genre of Mean Girls and Heathers-
Josephine is all grown up, newly married, and on her way to becoming a mother when she becomes obsessed with the haunting memories of her teenage years spent at an elite English boarding school. What begins as a wry coming of age story turns into a fierce and riveting examination of girlhood, sexuality, friendship, and loyalty. There's a lot more to this teenage tale than I expected, highly recommend! 
— Noelle
Description
---
Named a Most Anticipated Book by Entertainment Weekly * CNN * Harper's BAZAAR * E! Online * Refinery 29 * Bustle * Shondaland * Vulture * The Millions * Lit Hub * Electric Literature * Parade * MSN * and more!
"For when you want a coming-of-age novel with a dark twist. In this provocative novel, the past isn't always as far away as you think." —The Skimm
With the emotional power of Normal People and the reflective haze of The Girls, a magnetic novel that moves between present-day Los Angeles and a British boarding school in the 1990s, exploring the destructive relationships between teenage girls. 
Can we ever really escape our past?
The girls of St John the Divine, an elite English boarding school, were notorious for flipping their hair, harassing teachers, chasing boys, and chain-smoking cigarettes. They were fiercely loyal, sharp-tongued, and cuttingly humorous in the way that only teenage girls can be. For Josephine, now in her thirties, the years at St John were a lifetime ago. She hasn't spoken to another Divine in fifteen years, not since the day the school shuttered its doors in disgrace.
Yet now Josephine inexplicably finds herself returning to her old stomping grounds. The visit provokes blurry recollections of those doomed final weeks that rocked the community. Ruminating on the past, Josephine becomes obsessed with her teenage identity and the forgotten girls of her one-time orbit. With each memory that resurfaces, she circles closer to the violent secret at the heart of the school's scandal. But the more Josephine recalls, the further her life unravels, derailing not just her marriage and career, but her entire sense of self. 
Suspenseful, provocative, and compulsively readable, The Divines is a scorching examination of the power of adolescent sexuality, female identity, and the destructive class divide. Exposing the tension between the lives we lead as adults and the experiences that form us, Eaton probes us to consider how our memories as adults compel us to reexamine our pasts.
About the Author
---
Born and raised in England, Ellie Eaton lives in Los Angeles with her family. Former writer-in-residence at a men's prison in the United Kingdom, she holds an M.A. in creative writing from Royal Holloway, University of London. The Divines is her first novel.
Praise For…
---
"A provocative meditation on our obsession with youth—including our own—and an exploration into the power and perversity of teenage girls, The Divines is perfectly twisted in its reflection of an utterly toxic environment, making it impossible to put down till you get to its end."
— Refinery 29

"For when you want a coming-of-age novel with a dark twist. In this provocative novel, the past isn't always as far away as you think."
— The Skimm

"Shifting in time, this crisply written novel explores the universal human yearning to belong—and the terrible toll it can sometimes exact."
— People

"In this captivating debut novel, Ellie Eaton traces adolescent female sexuality, class divides, and the weight of formative memories on adults."
— Vulture, New York Magazine

"[G]ripping...Jumping between modern-day Los Angeles and 1990s Britain, The Divines examines destructive bonds and lingering traumas."
— E! Online

"[An] intelligent debut… Eaton does a good job describing class tension and the misery of trying to fit into a social clique as a teenager. Josephine's steady unraveling of her teenage dramas will keep readers riveted."
— Publishers Weekly

"At times both sharp and haunting, this novel embodies the awkwardness and regret of adolescence.... A layered and complex debut."
— Booklist

"All in all, The Divines is a well-told story that hurtles towards a strangely satisfying conclusion."
— Alma,  chosen as a Favorite Book for Winter 2021

"A new mother tries to reconcile her former 'mean girl' past at a shuttered boarding school in this riveting and darkly comic addition to the campus novel canon. The Divines is as provocative and daring as teenagerhood, itself."
— Courtney Maum, author of Touch and Costalegre

"'Girls are vicious', a character in The Divines says towards the end, and Ellie Eaton has given us every ounce of that viciousness, meticulously portioned and weighed, the pain of it held up to the light. Seductive and uncomfortable in equal measure, the real raw strange runs through this book, that indigestible part of the human experience we all choke on from time to time."

— Rufi Thorpe, author of The Knockout Queen and The Girls from Corona Del Mar

"The Divines is an excellently written book that will suck you into its storyline. I loved each and every one of the characters and the author did an exemplary job of developing each one. A must-read for fans of the movies Heathers and Mean Girls."
— San Francisco Book Review

"Eaton's debut combines three of my favorite things—boarding school, "vicious" teenage girls, and long-buried secrets that haunt for years."
— Literary Hub

"An exploration of the destructive relationships between teenage girls at an entirely toxic and secluded boarding school. What more could you want?"
— Parade

"A potent novel about what it means to remember and how responsible we are for the actions of our youth. Seething with teenage sexuality, friendship and that peculiarly British obsession, class, this is an absorbing read." 
— Araminta Hall, author of Imperfect Women 

"Twisty and twisted, The Divines is exquisitely paced—a haunting novel about identity, the cruelties of youth, and the blurry line between nostalgia and obsession. In precise, lacerating detail, Eaton weaves two worlds together: one built around the odd rituals, brutal logic, and savage social structures put forth by a group of teen girls; the other centered on the traumatic implications of growing up privileged but unsupervised, elite but lonely, cut off from one's desire. This is a blistering, brilliant debut."
— Kimberly King Parsons, author of Black Light

"A fierce, stunning debut that you won't so much read as burn through. Eaton captures all the time honored trapdoors of late girlhood that we know firsthand to be real, but in her wildly talented hands they feel brand new and completely fascinating." 
— Caroline Zancan, author of We Wish You Luck

"The Divines is an absorbing, sharp exploration of the ways our adolescent secrets, relationships, and cruelties shape and haunt us into adulthood. Ellie Eaton's writing is thrilling and intoxicating, whether about the inexplicable power teenage girls have over one another or the challenges of defining a self outside of long-held traditions. A compulsively readable book; I couldn't put it down." 
— Alexandra Chang, author of Days of Distraction

"From the very first page, The Divines throws the reader headfirst into the crucible of adolescent girlhood, in all its insecurity and entitlement, brittle vulnerability and callous cruelty. Eaton turns a keen eye toward class, privilege, and trauma, but this novel is above all a ruthlessly compassionate exploration of the stories we tell ourselves about the past—our drive to assuage our regrets, even as we are reluctant to reckon with their repercussions. A confident, nuanced, impeccably paced debut."
— Micah Nemerever, author of These Violent Delights

"[M]eticulously plotted.... A crumbling all-female boarding school becomes the scene of a tragedy when its privileged students turn against one another in this captivating debut."
— Shelf Awareness
We appreciate your continued support!
If you would like to make a donation to help us through CLICK HERE.