Raft of Stars: A Novel (Hardcover)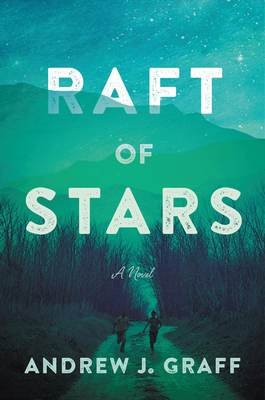 April 2021 Indie Next List
---
"Raft of Stars is an engaging coming-of-age story that will appeal to a wide range of readers. Believing they are murderers, two young boys go on the run in northern Wisconsin. As the adults in their lives set out to find them, questions of guilt, hope, and the future rise to the surface. With characters that come alive and a setting that is real enough to feel, touch, and smell, Graff's novel has action and emotion as well. Filled with themes of family and friendship, this warm-hearted adventure is sure to be a winner!"
— Betsy Von Kerens, The Bookworm of Omaha, Omaha, NE
Description
---
"A rousing adventure yarn full of danger and heart and humor." —Richard Russo

An instant classic for fans of Jane Smiley and Kitchens of the Great Midwest: when two hardscrabble young boys think they've committed a crime, they flee into the Northwoods of Wisconsin. Will the adults trying to find and protect them reach them before it's too late?
It's the summer of 1994 in Claypot, Wisconsin, and the lives of ten-year-old Fischer "Fish" Branson and Dale "Bread" Breadwin are shaped by the two fathers they don't talk about.
One night, tired of seeing his best friend bruised and terrorized by his no-good dad, Fish takes action. A gunshot rings out and the two boys flee the scene, believing themselves murderers. They head for the woods, where they find their way onto a raft, but the natural terrors of Ironsforge gorge threaten to overwhelm them.
Four adults track them into the forest, each one on a journey of his or her own. Fish's mother Miranda, a wise woman full of fierce faith; his granddad, Teddy, who knows the woods like the back of his hand; Tiffany, a purple-haired gas station attendant and poet looking for connection; and Sheriff Cal, who's having doubts about a life in law enforcement.
The adults track the boys toward the novel's heart-pounding climax on the edge of the gorge and a conclusion that beautifully makes manifest the grace these characters find in the wilderness and one another. This timeless story of loss, hope, and adventure runs like the river itself amid the vividly rendered landscape of the Upper Midwest.

About the Author
---
Andrew J. Graff is the author of novel Raft of Stars. His fiction and essays have appeared in Image and Dappled Things. Andrew grew up fishing, hiking, and hunting in Wisconsin's Northwoods. After a tour of duty in Afghanistan, Graff earned an MFA from the Iowa Writers' Workshop. He lives in Ohio and teaches at Wittenberg University.
Praise For…
---
"[An] exquisitely crafted novel about two 10-year-old boys on the lam on a river raft. . . .  The art and craft of this narrative, apparent from the first page with its sublime constellations of images, offers brutal beauty, the glinting edge of truth, and the possibility of redemption for the fifth-grade boys, and also for the adults chasing them. Finding their way through the thick, gnarled woods and along the perilous river, both children and adults show they can transcend the thicket of confusion surrounding their personal circumstances and emerge toward more clarity."
— Boston Globe

"An adventurous tale of misfit characters and a humble riverboat."
— Parade ("A Must-Read Book of Spring")

"Outdoorsy tales like this, from Hemingway's early Michigan stories to James Dickey's Deliverance on down, typically use woods and waterways as proving grounds for masculinity. But Graff...wants to unravel some of the expectations of the genre. Nature, here, isn't impressed with masculinity at all, and it's prepared to smash machismo against its rocks along with anything else. . . Graff writes exquisitely about the wilderness,...[and] recognizes that his main job is to deliver a gripping adventure tale, which the concluding chapters offer plenty of — dangerous rapids leading to life-threatening waterfalls, menacing black bears and coyotes." 
— Washington Post

"A heartfelt and enjoyable story with a welcome and genuine sense of place."
— Milwaukee Magazine

"The characters are expertly drawn in their shifting relationships . . . Both an engaging adventure and a profound reflection on human bonding, what it means to be a man (and a good one), and the importance of persevering. . . . Highly recommended, whether you want literate thrills or thoughtful, affirming meditation."
— Library Journal (starred review)

"Impressive . . . [Graff's] background as a hunter and a hiker gives him plenty of raw material to make the natural trials faced by Fish and Bread and their trackers realistic and, at times, harrowing. Besides whitewater, there's violent weather, bears and the uncertainty of who will find the boys, if anyone, and when."
— St. Louis Post-Dispatch

"RAFT OF STARS is a dark, dreamy, adrenaline-spiked escape into [the] Midwest wilderness. . . . RAFT OF STARS is both a plot-driven wilderness adventure and a fragile coming-of-age story. Graff captures the pure connection between friends on the cusp of adulthood, struggling to love parents with sometimes-unforgivable imperfections, and the world created by his powerful, thrumming style is not so much a setting as it is a star-shot forest dreamscape of cedar trees, prowling coyotes, and sun-bleached scarecrows made of bone."

— Popsugar

"The wilderness odyssey that shapes Graff's rewarding coming-of-age debut has a timeless, archetypal resonance. . . .  Graff depicts the harsh Northwoods setting and his misfit characters' inner lives with equal skill. The dynamic quest narrative offers plenty of rich moments."
— Publishers Weekly

"You'll be so busy savoring this deliciously-written tale that the only thing you'll truly care about is that this book lingers, like a soft summer night, so grab Raft of Stars and run with it."
— Yankton Daily Press

"Rural Wisconsin in the mid-1990s is the setting for Graff's memorable story of loss, violence, adventure, and redemption. . . . Graff's characters have heart to spare, and his affection for this rugged part of the country is infectious. His coming-of-age story offers us nostalgia and escape, and he reminds us that while freedom can be elusive, the people who love you always make your life worth living."
— Kirkus Reviews

"Reminiscent of stories like Stand By Me and Have You Seen Luis Velez?, Graff's debut novel will enchant fans of Chris Cleave and Melissa Bank. Graff's narrative voice is lyrical, with a Southern Gothic edge that fits surprisingly well with the Wisconsin Northwoods setting. Exploring the necessity of the stories we tell ourselves to survive, Raft of Stars is a clever, compelling coming-of-age tale."
— Booklist

"I had no idea people wrote books like Andrew J. Graff's Raft of Stars anymore—a rousing adventure yarn full of danger and heart and humor and characters worth worrying about. It's as if, after observing the deplorable state we're all in right now, the author took it upon himself to raise our collective spirits. Bravo!"
— Richard Russo, author of Empire Falls and Chances Are...

"Graff has crafted not only an adventure story with a warm heart at its center, but a whole town of characters for readers to fall in love with."
— J. Ryan Stradal, author of The Lager Queen of Minnesota

"In ruggedly beautiful prose, and with a deep affection for his damaged, but always loveable characters, Graff delivers a novel with real heart and soul.  An authentic look into the heartland of America, into one-parent households, where mothers and grandparents are supporting the next generation while fathers are either absentee, or should be.  Like a barrel going over a waterfalls, Raft of Stars sweeps its reader downstream, and fast.  Hold on for the ride." 
— Nickolas Butler, author of Little Faith
We appreciate your continued support!
If you would like to make a donation to help us through CLICK HERE.