My Vanishing Country \ Mi país se desvanece (Spanish edition): Memorias (Paperback)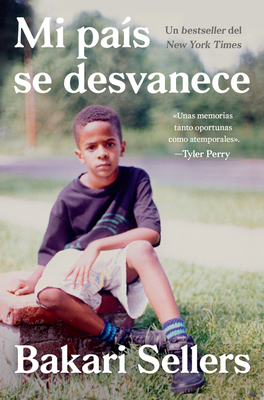 Description
---
En estas memorias, el analista político y representante de estado más joven de Carolina del Sur ahonda sobre las vidas del olvidado sur negro.
«Soy del llamado País Bajo de Carolina del Sur, donde se entrelazan la belleza, la historia y la desgracia. Basta conducir cincuenta millas en cualquier dirección para hallarse en los mismos campos donde los esclavos —algunos de ellos, ancestros no tan lejanos— sudaban sobre el algodón, el índigo, la caña de azúcar, el arroz, el trigo y la soja. Específicamente, soy de Dinamarca, Carolina del Sur, un lugar donde todo el mundo conocía mi apellido; un apellido, según descubrí en mi infancia, teñido por el honor y la infamia».
En cada capítulo, Bakari Sellers nos permite presenciar las vidas y luchas cotidianas de la población afroamericana rural del sur de los Estados Unidos a través de tanto sus vivencias como anécdotas históricas y políticas.
Mi país se desvanece es un recorrido nostálgico, conmovedor y sincero sobre los acontecimientos e injusticas que marcaron a generaciones de hombres y mujeres negras, incluida la familia Sellers, hasta hoy día. Con estas memorias, Sellers adopta una nueva vía de lucha por los derechos civiles afroamericanos.
Bakari Sellers es analista político en CNN y el miembro más joven en toda la historia de la legislatura estatal de Carolina del Sur. Incluido en la lista de «Los 40 de menos de 40» de la revista Time en 2010, también es abogado que lucha por dar voz a los que no la tienen.
About the Author
---
Bakari Sellers made history in 2006 when, at just twenty-two years old, he defeated a twenty-six-year incumbent State Representative to become the youngest member of the South Carolina state legislature and the youngest African American elected official in the nation. In 2014 he was the Democratic Nominee for Lieutenant Governor in the state of South Carolina. Sellers is a CNN political analyst and served in the South Carolina state legislature. Recently named to 's 󈬘 Under 40" list, he is also a practicing attorney who fights to give a voice to the voiceless.