Dave at Night (Paperback)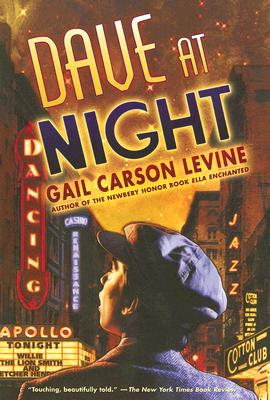 Description
---
If nobody wants him, that's fine.He'll just take care of himself.
When his father dies, Dave knows nothing will ever be thesame. And then it happens. Dave lands in an orphanage—the cold and strict Hebrew Home for Boys in Harlem—far from the life he knew on the Lower East Side. But he's not so worried. He knows he'll be okay. He always is. If it doesn't work out, he'll just leave, find a better place to stay. But it's not that simple.
Outside the gates of the orphanage, the nighttime streets of Harlem buzz with jazz musicians and swindlers; exclusive parties and mystifying strangers. Inside, another world unfolds, thick with rare friendships and bitter enemies. Perhaps somewhere, among it all, Dave can find a place that feels like home.
About the Author
---
Gail Carson Levine's first book for children, Ella Enchanted, was a Newbery Honor Book. Levine's other books include Ever, a New York Times bestseller; Fairest, a Best Book of the Year for Publishers Weekly and School Library Journal, and a New York Times bestseller; Dave at Night, an ALA Notable Book and Best Book for Young Adults; The Wish; The Two Princesses of Bamarre; A Tale of Two Castles; and the six Princess Tales books. She is also the author of the nonfiction books Writing Magic: Creating Stories That Fly and Writer to Writer: From Think to Ink, as well as the picture books Betsy Who Cried Wolf and Betsy Red Hoodie. Gail Carson Levine and her husband, David, live in a two-centuries-old farmhouse in the Hudson Valley of New York State.