The Splicing Handbook: Techniques for Traditional and Modern Ropes and Wires (Paperback)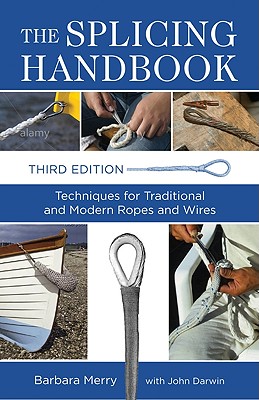 $24.00

Available in our Warehouse: Usually Ships in 3-8 Days
Description
---
The only reference devoted entirely to splicing today's ropes
The Splicing Handbook includes step-by-step illustrations and explanations for the most useful and popular splices in traditional twisted and modern braided ropes, and it covers every kind of splicing project you are likely to encounter, including modern cordage such as Spectra; mainstream rope materials such as Dacron and nylon; and wire and rope-to-wire splices.
Covers all the standard rope constructions using Dacron and nylon, including solid braid, double braid, parallel core, plaited, and three-strand Explains how to splice wire for sailboat shrouds and halyards Shows how to make a broad range of useful onboard projects--and several that will find uses around the home as well, including dog collars, netting, rope railings, and lanyards.
About the Author
---
Barbara Merry is a marine rope worker with twenty years of experience in the splicing trade. Founder and owner of the Marlinspike Artist, she has worked on projects for boats of all sizes, from small traditional sailing craft and working schooners to commercial fishing vessels and U.S. Coast Guard cutters. She has taught at the Wooden Boat School and the Northeast Maritime Institute, and has written on rope and rope technology for WoodenBoat and Invention and Technology. John Darwin is a master of rope technology and sailed in many capacities from deckhand to captain before working shoreside for a large rope manufacturer. A former rope designer, John still tests and fabricates rope.