Biology: Science for Life (Paperback)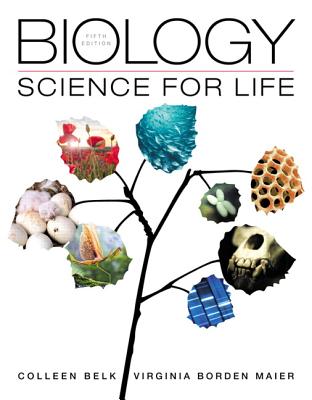 $247.05
Email or call for price.
Description
---
NOTE: You are purchasing a standalone product; MasteringBiology does not come packaged with this content. If you would
like to purchase both the physical text and MasteringBiology search for:
0133889203 / 9780133889208 Biology: Science for Life Plus MasteringBiology with eText -- Access Card Package, 5/e
Package consists of:
0133892301 / 9780133892307 Biology: Science for Life, 5/e
0133923 452/ 9780133923452 MasteringBiology with Pearson eText -- ValuePack Access Car d -- for Biology: Science for Life, 5/e For non-majors biology courses. Compelling and relatable stories engage students in learning biology Colleen Belk and Virginia Borden Maier have helped students understand biology for more than twenty years in the classroom and over ten years with their popular text, Biology: Science for Life. The thoroughly revised Fifth Edition engages students with new storylines that explore high-interest topics such as binge drinking, pseudoscience, and study drugs. The book and MasteringBiology resources also help students develop scientific skills using new Working With Data figure legend questions and addresses common misconceptions with Sounds Right, But Is It? discussions in each chapter. This edition also offers a wealth of new "Flipped Classroom" activities and other resources to help professors enliven their classes and to help students assess their understanding of biology outside of class.
Also available with MasteringBiology (R)
MasteringBiology is an online homework, tutorial, and assessment product proven to improve results by helping students quickly master concepts. Students benefit from self-paced tutorials that feature personalized wrong-answer feedback and hints that emulate the office-hour experience and help keep students on track. With a wide range of interactive, engaging, and assignable activities, students are encouraged to actively learn and retain tough course concepts. New assignment options for the Fifth Edition include Interactive Storyline activities, Working with Data questions, Savvy Reader: Evaluating Media activities, and more.


About the Author
---
Colleen Belk and Virginia Borden Maier collaborated on teaching biology to nonmajors for over a decade together at the University of Minnesota--Duluth. This collaboration has continued through Virginia's move to St. John Fisher College in Rochester, New York, and has been enhanced by their differing but complementary areas of expertise. In addition to the non-majors course, Colleen Belk teaches general biology for majors, genetics, cell biology, and molecular biology courses. Virginia Borden Maier teaches general biology for majors, evolutionary biology, zoology, plant biology, ecology, and conservation biology courses. After several somewhat painful attempts at teaching the breadth of biology to non-majors in a single semester, the two authors came to the conclusion that they needed to find a better way. They realized that their students were more engaged when they understood how biology directly affected their lives. Colleen and Virginia began to structure their lectures around stories they knew would interest students. When they began letting the story drive the science, they immediately noticed a difference in student interest, energy, and willingness to work harder at learning biology. Not only has this approach increased student understanding, but it has also increased the authors' enjoyment in teaching the course-presenting students with fascinating stories infused with biological concepts is simply a lot more fun. This approach served to invigorate their teaching. Knowing that their students are learning the biology that they will need now and in the future gives the authors a deep and abiding satisfaction.