The Face of Battle: A Study of Agincourt, Waterloo, and the Somme (Paperback)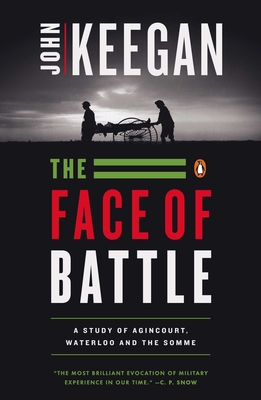 $18.00

Available in our Warehouse: Usually Ships in 3-8 Days
Description
---

John Keegan's groundbreaking portrayal of the common soldier in the heat of battle -- a masterpiece that explores the physical and mental aspects of warfare

The Face of Battle is military history from the battlefield: a look at the direct experience of individuals at the "point of maximum danger." Without the myth-making elements of rhetoric and xenophobia, and breaking away from the stylized format of battle descriptions, John Keegan has written what is probably the definitive model for military historians. And in his scrupulous reassessment of three battles representative of three different time periods, he manages to convey what the experience of combat meant for the participants, whether they were facing the arrow cloud at the battle of Agincourt, the musket balls at Waterloo, or the steel rain of the Somme.

The Face of Battle is a companion volume to John Keegan's classic study of the individual soldier, The Mask of Command: together they form a masterpiece of military and human history.
About the Author
---
Sir John Desmond Patrick Keegan (1934–2012), was one of the most distinguished contemporary military historians and was for many years the senior lecturer at Sandhurst (the British Royal Military Academy) and the defense editor of the Daily Telegraph (London). Keegan was the author of numerous books including The Face of Battle, The Mask of Command, The Price of Admiralty, Six Armies in Normandy, and The Second World War, and was a fellow at the Royal Society of Literature.
Praise For…
---
"...still widely regarded as his best despite more than 20 other works." -
The Guardian 
"The most brilliant evocation of military experience in our time" —C.P. Snow
"In this book, which is so creative, so original, one learns as much about the nature of man as of battle." —J.H. Plumb, The New York Times Book Review
"This without any doubt is one of the half-dozen best books on warfare to appear in the English language since the end of the Second World War." —Michael Howard, The Sunday Times (London)
"A totally original and brilliant book" —The New York Review of Books

"The book which changed how military history is written. Keegan set out to discover what it must have been like to be present at Agincourt, Waterloo and the Somme - and he succeeded brilliantly."-- Bernard Cornwell (Chosen as number one of his six best books) ― Daily Express (London)