Mara, Daughter of the Nile (Mass Market)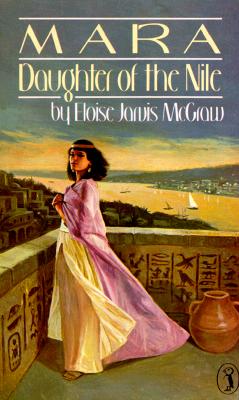 $8.99
This item is not currently available to order.
Description
---
This compelling story of adventure, romance, and intrigue, set in ancient Egypt, was written by the three-time Newbery Honor and Edgar Award winning author Eloise Jarvis McGraw.
 
Mara is a proud and beautiful slave girl who yearns for freedom in ancient Egypt, under the rule of Queen Hatshepsut. Mara is not like other slaves; she can read and write, as well as speak the language of Babylonian. So, to barter for her freedom, she finds herself playing the dangerous role of double spy for two arch enemies—each of whom supports a contender for the throne of Egypt.
 
Against her will, Mara finds herself falling in love with one of her masters, the noble Sheftu, and she starts to believe in his plans of restoring Thutmose III to the throne. But just when Mara is ready to offer Sheftu her help and her heart, her duplicity is discovered, and a battle ensues in which both Mara's life and the fate of Egypt are at stake.
 
"Dangerous espionage, an unusual love story, and richly drawn background make this a book to capture quick and lasting interest."—Horn Book
 
"Thoroughly engrossing."—Kirkus Reviews
About the Author
---
Eloise Jarvis McGraw was an American author of children's books and young adult novels. She won the Newbery Honor three times in three different decades, for her novels Moccasin Trail (1952), The Golden Goblet (1962), and The Moorchild (1997). A Really Weird Summer (1977) won an Edgar Award for Best Juvenile Mystery from the Mystery Writers of America. McGraw had a very strong interest in history, and among the many books she wrote for children are Greensleeves, The Seventeenth Swap, and Mara, Daughter of the Nile. A Lewis Carroll Shelf Award was given to Moccasin Trail in 1963. She also contributed to the Oz series started by L. Frank Baum; working with her daughter, graphic artist and librarian Lauren Lynn McGraw, she wrote Merry Go Round in Oz (the last of the Oz books issued by Baum's publisher) and The Forbidden Fountain of Oz.
Praise For…
---
"Dangerous espionage, an unusual love story, and richly drawn background make this a book to capture quick and lasting interest."—Horn Book
 
"Thoroughly engrossing."—Kirkus Reviews