Jabberwocky and Other Nonsense: Collected Poems (Paperback)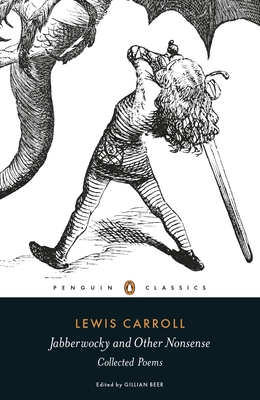 $20.90
This item is not currently available to order.
Description
---
The collected poems of the author of Alice's Adventures in Wonderland

One of the best-known lines in literature—"Twas brillig, and the slithy toves / Did gyre and gimble in the wabe"—comes from Lewis Carroll's poetry, which he wrote throughout his life to amuse himself and to give pleasure to his friends and family. This marvelous collection celebrates the full range of his verse—his nonsense, parodies, burlesques, and more—and includes such enduringly wonderful pieces as "The Walrus and the Carpenter," "The Mock Turtle's Song," and "Father William" alongside the brilliantly playful "Jabberwocky."

For more than seventy years, Penguin has been the leading publisher of classic literature in the English-speaking world. With more than 1,700 titles, Penguin Classics represents a global bookshelf of the best works throughout history and across genres and disciplines. Readers trust the series to provide authoritative texts enhanced by introductions and notes by distinguished scholars and contemporary authors, as well as up-to-date translations by award-winning translators.
About the Author
---
LEWIS CARROLL (1832-1898) was the pen-name of the Reverend Charles Lutwidge Dodgson. Born in 1832, he was educated at Christ Church, Oxford, where he was appointed lecturer in mathematics in 1855, and where he spent the rest of his life. In 1861 he took deacon's orders, but shyness and a stammer prevented him from seeking the priesthood. His most famous works, Alice's Adventures in Wonderland (1865) and Through the Looking-Glass (1872), were originally written for Alice Liddell, the daughter of the Dean of his college. He died of bronchitis in 1898.

GILLIAN BEER (introducer) is King Edward VII Professor Emeritus of English at the University of Cambridge and past President of Clare Hall College. Among her works are Darwin's Plots (1983; third edition, 2009), George Eliot (1986), Arguing with the Past: Essays in Narrative from Woolf to Sidney (1989), Open Fields: Science in Cultural Encounter (1996) and Virginia Woolf: The Common Ground (1996).
Praise For…
---
"Made me nearly fall off a chair laughing…Gillian Beer's lovingly, meticulously edited collection – the first ever – of Lewis Carroll's 'uproariously dissident' verse, leaves me seriously happy every time I open it."
—Ali Smith, Times Literary Supplement Books of the Year

 "Opening at random Gillian Beer's new edition of Lewis Carroll's poems, Jabberwocky and Other Nonsense, guarantees a pleasurable experience - not all of it nonsensical
—Michael Caines, Times Literary Supplement

This is an elegant volume, likely to delight enthusiasts, while introducing Lewis Carroll's poetry to a younger readership. The poems are set out chronologically following a generous, thoughtful introduction from the esteemed Cambridge critic Gillian Beer... Beer has done an admirable job, and this edition will appeal to readers of all ages
—Alexandra Lawrie, Times Literary Supplement