Why Do Horses Neigh? (Penguin Young Readers, Level 3) (Paperback)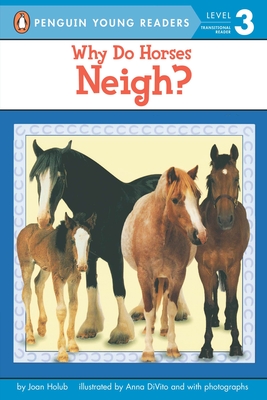 Description
---
Do you love horses? If you do, you're not alone. There's so much to know about these amazing animals. Why do horses neigh? What are baby and adult horses called? How do horses communicate? Beginning readers can find out the answers to these questions-and many more-in this lively, fact-filled introduction to these popular animals. Filled with colorful illustrations and dynamic color photos of real horses, this is a perfect selection for any young horse lover.

Illustrated by Anna DiVito.
About the Author
---
Joan Holub is the author and/or illustrator of many books for children. She lives in North Carolina, where the famous groundhog Sir Walter Wally helps watch the weather at the Museum of Natural Sciences. You can visit Joan at www.joanholub.com.
Anna Divito lives in Unionville, New York.